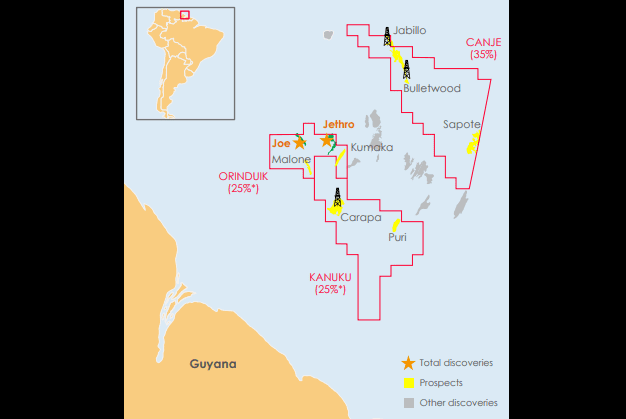 Explorers on the Canje Block offshore Guyana are targeting two prospects for drill campaigns in 2020 according to co-venturer Total.
The Bulletwood and Jabillo wells, located in the north-west portion of the block, are two in a series of campaigns the French oil major will be participating in over the coming months, according to plans outlined in its strategy update published on September 24.  Another prospect that was identified on the block is Sapote.
ExxonMobil is operator on the block with a 35% interest. Total also has 35% interest, having taken stakes off Canada-based JHI Associates and local player Mid-Atlantic Oil & Gas early last year. JHI retains 17.5%, with Mid-Atlantic holding 12.5%.
Total said multiple drill targets offshore the South American country have been identified, including the Carapa prospect on the Kanuku Block where the company has a 25% interest.
Plans are also underway to "follow up tertiary prospects in Orinduik and Kanuku, derisked by Jethro and Joe," Total said.
Jethro and Joe represent the first two discoveries to be made outside the Stabroek Block where ExxonMobil is operator.
To date, a total of 16 discoveries have been made offshore Guyana, 14 of which occurred at Stabroek.