Guyana has a tremendous record in environmental protection due to State policies and the ecosystem and carbon sequestration services that its forests provide. Considering this, Georgetown businessman, Timothy Tucker, is urging hardline environmentalists to exercise compromise for the benefit which will come from the country's development. The gains Guyana can expect from the strengthening of its economy and the improvement of quality of life far outweigh the considerably minor sacrifice to be made from, for example, clearing some vegetation to erect industrial structures, Tucker believes.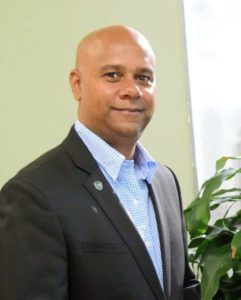 "Everybody wants a quality of life that is better and as equal as those Guyanese who have left the shores of Guyana to seek [it]," he told OilNOW. "The only way we'll be able to have that quality and have that appreciative currency and stable, reliable and cheaper electricity that we're hoping to get is with development."
Recently, CGX Energy Inc. cleared 20 acres of mangroves in Berbice to facilitate the construction of a deepwater port. Following some back-and-forth in local media on the issue, the Berbice Chamber of Commerce and Development Association (BCCDA) published a statement last week noting that CGX received all necessary permissions for this endeavour. This is what prompted Tucker's comments.
As President of the Georgetown Chamber of Commerce and Industry (GCCI), Tucker's jurisdiction and its surrounding environs have experienced the lion's share of economic activity that came with the development of the oil and gas sector in Guyana. Now, development in Berbice will help Guyanese begin to experience the growth occurring in Georgetown, Tucker explained.
Noting this fixation on Georgetown and the county of Demerara, the Berbice Chamber said it is grateful for the opportunity that CGX brings to Berbice, "not only the deep-water port, but also with drilling of three onshore wells, location of their logistics yard and staging of many activities for their recent Kawa-1 well from Berbice, including quarantining of their personnel in Berbice as opposed to Georgetown."
Tucker said he is disappointed at the lack of perspective from persons objecting to activities that give Berbice an opportunity for real economic growth.
"I am sure the companies that have to remove mangroves would be more than happy to help with preserving or protecting mangroves/rainforest in some other part of the country," Tucker said in a Facebook post last week.
After having cleared 20 out of the 30 acres on the project site, CGX has committed the 10 acres of remaining mangroves for utilization as "a living laboratory to further understand coastal mangrove habitats," the Berbice Chamber said.
Concerns were raised last year when Tristar Incorporated cleared mangroves to facilitate the construction of a shorebase facility on the West Bank of Demerara. Minister of Public Works, Bishop Juan Edghill had said that the sea defence and flood protection provided by the cleared mangroves would not be lost, since the structures to be erected would be designed to mitigate flooding.
Oil companies have also been participating in activities aimed and preserving the environment.
ExxonMobil Guyana recently announced that it had replanted mangroves it was permitted to clear on the East Coast of Demerara, for the landing of a fibre optic cable which will service its offshore facilities.