The Environmental Protection Agency (EPA) has instructed ExxonMobil's affiliate, Esso Exploration and Production Guyana Limited (EEPGL) to submit an Environmental Impact Assessment (EIA) for its next mammoth-sized oil project at the Stabroek block's Uaru field.
The regulatory body noted that the proposed project will be implemented in multiple stages which include well drillings and completions, mobilisation and installation of subsea equipment, umbilicals, risers and flowlines (SURF), installation of a floating production, storage and offloading (FPSO) facility, production operations, and decommissioning.
It said too that the project will be undertaken in the marine offshore environment and would require land-based activities for support activities at marine shore bases. As a result of the intended developmental activities, it said possible effects on the environment may include impacts on marine water quality, air quality, marine fauna, socio-economic resources, among others.
In light of the foregoing, the EPA said it has determined that an Environmental Impact Assessment (EIA) is required before any decision can be made as to its approval or rejection.
It further noted that stakeholders have 28 days to make written submissions to the agency, setting out those questions and matters which they require to be answered or considered in the EIA.
EEPGL has also decided to hold public scoping meetings along the Guyana coast to disseminate project information.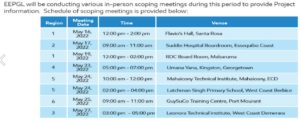 According to project details submitted to EPA, Uaru would be designed to produce as much as 275,000 barrels of oil per day (bpd) and could achieve first oil as early as the fourth quarter of 2026.
At a production capacity of 275,000 bpd, Uaru would take accumulated oil production capacity in the Stabroek Block over 1.1 million bpd after it is safely commissioned and ramps up to nameplate capacity.
Presently, the Liza Phases One and Two projects operate offshore Guyana with total oil production capacity of 360,000 bpd. Payara and Yellowtail have received government approvals, and are expected to achieve first oil in 2023 and 2025 respectively.