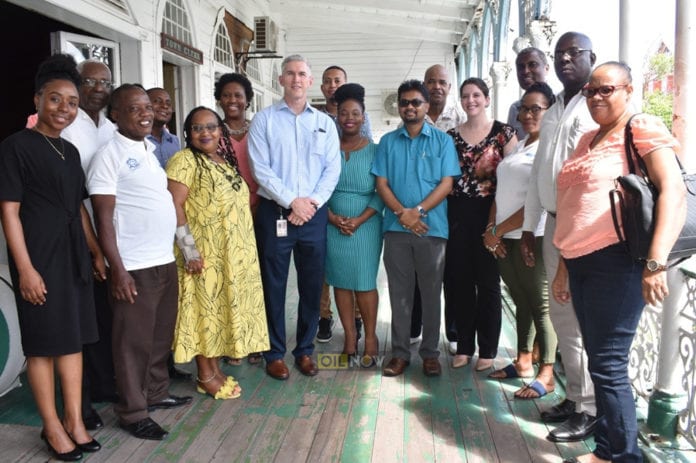 As first oil from the giant Liza field offshore Guyana draws near, ExxonMobil – operator in the 6.6 million acres Stabroek block – updated officials of the Georgetown Mayor and City Council on the company's operations in the South American country, on Friday, November 15.
Country Manager of ExxonMobil Guyana, Rod Henson, spoke about the company's history in Guyana and described some of its current activities offshore. He told the Councillors and members of the city administration that the company's objective is to partner with countries such as Guyana, to develop their oil and gas resource.
The work of the Centre for Local Business Development, which opened its doors in 2017, was highlighted as Henson explained the investments made by Exxon and its contractors in Guyana to date.
He reminded that as at June 2019, more than 1,300 Guyanese were employed in the sector through the company's operations and that of its sub-contractors. He explained that this number is expected to exceed 1,700 when their third-quarter numbers are finalised. Henson further stated that for the first half of 2019, around 500 small and large companies have been engaged, with over 30 billion Guyana dollars injected into the local economy since 2015.
Addressing questions from the Councillors regarding Guyana's share of the profit from oil production, Henson said the country stands to receive approximately 300 million US dollars in 2020 from oil production.
In addition to a 2 percent royalty, the Guyana government will receive half of the profits after cost is recovered.
Concern for Guyana's marine life as well as oil spill preparedness was also addressed. The Country Manager said while oil spills do occur there are quite rare. He told the Council that the company has equipment locally and contractors internationally that can immediately respond to any incident.
Barring any unforeseen circumstances, ExxonMobil is expected to begin oil production in December with the 120,000 barrels per day Liza Phase 1 Development project.