ExxonMobil affiliate Esso Exploration and Production Guyana Limited (EEPGL) has outlined a number of measures the company will take in the event of an oil spill from its Liza Phase 1 development.
The company's Oil Spill Response Plan (OSRP) was amended in 2017 to describe its on-going exploration, drilling and additional Liza Development and how it will work together with the appropriate Guyana agencies to respond to an oil spill of different severities. The Emergency Response Plan covers incidents associated with the shorebases utilized by EEPGL as well as the offshore operations in the Stabroek Block, including the possibility of hydrocarbon and chemical releases, search and rescue, offshore medical evacuation, medical emergency, fatality, fire or explosion at a work site, natural disaster and security or civil disturbance.
Oil spill modeling was performed for five hypothetical oil spill scenarios, ranging from higher probability small volume operational releases at the water surface to the unlikely large volume spill related to production or drilling operations originating either at the sea surface or from a subsea release at the seabed. Modeling has determined the potential impact of a loss of well control event (Tier II-III) could include Trinidad and the Southern Caribbean, Lesser Antilles.
According to the OSRP, "EEPGL will manage and coordinate the response from Georgetown, Guyana and utilize in-country logistics for operations in all of the potentially impacted countries, if it is safe to operate there."
The OSRP states that at all stages of the response operation, EEPGL will work with the appropriate authorities in Guyana and any other affected countries, which will include rapid development of a plan to identify and engage potentially affected stakeholders and communities.
"EEPGL continues to work cooperatively with the Civil Defense Commission (CDC), Guyana Geology and Mines Commission (GGMC) and other local agencies and interested stakeholders on a routine basis to ensure open lines of communication are maintained and clear roles and responsibilities are understood and consistent with the agreed emergency response planning for offshore petroleum operations," the company says in its OSRP.
Speaking at the opening of a major capacity building workshop on Oil Spill Response in April, ExxonMobil Guyana Country Manager, Rod Henson, stressed the importance of being prepared, even while highlighting that the likelihood of a large oil spill was relatively low.
"We believe at ExxonMobil that you could never have enough training. In the time of an emergency, that's not the time to learn, that's the time to act, so you have to be prepared to act," he said.
Emergency preparedness and response, the Country Manager said, is a mechanism companies and stakeholders hope they never have reason to use, but nevertheless, must be prepared for. ExxonMobil and its contractors, he pointed out, "…go to great lengths to ensure that there is no oil spill, to ensure that never happens. Significant spills are extremely rare and statistically it's very unlikely that there will be a large spill in Guyana."
The Environmental Impact Assessment study that was conducted for the Liza Phase 1 development project states that in event of an oil spill, there is a 5 to 10 percent chance of shoreline oiling in Guyana.
Meanwhile Director General (ag) of the CDC, Lieutenant Colonel Kester Craig, says Guyana's National Oil Spill Contingency Plan has benefited from the input of several notable international organizations and following a series of reviews, the document will be open for public consultations in the South American country.
"At this juncture, it is important to note that Guyana's National Oil Spill Contingency Plan has been developed in draft locally, drawing on material available regionally and internationally, and in keeping with the International Maritime Organization Guidelines. Our local capacity in this regard, in no way distances us from, nor negates the involvement of international experts," he told those gathered at the opening of an Incident Command Systems (ICS) and Oil Spill Response training programme held in April.
In March, Guyanese authorities held a stakeholder workshop to review the country's National Draft Oil Spill Contingency Plan, for finalizing and implementation within the next 24 months, ahead of first-oil.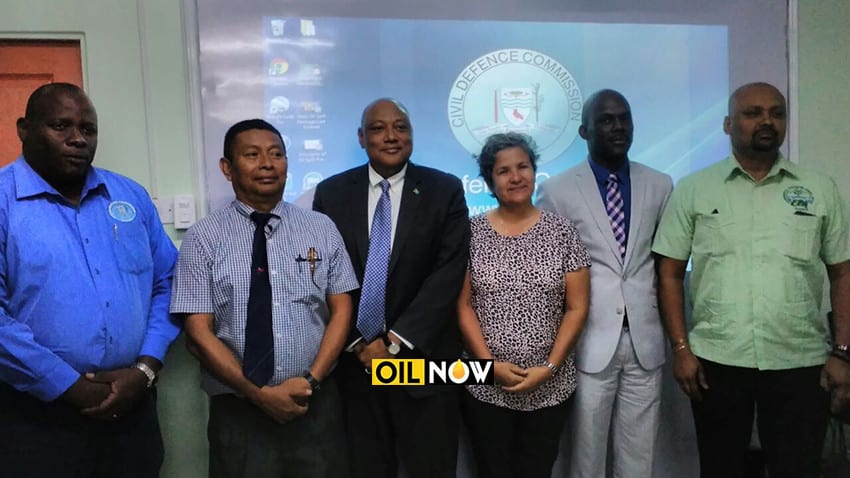 The one-day stakeholder consultation held at the CDC's Thomas Lands, Georgetown Headquarters, saw in attendance representation from various entities including the Guyana Police Force, the Environmental Protection Agency and the Guyana Marine Turtle Conservation Society, among others.
Oil production is scheduled to begin in Guyana by the first quarter of 2020 with the Liza Phase 1 development. Multiple developments off the country's coast is expected to see production hit 750,000 barrels per day by 2025.