Hit by the second industry downturn in five years, global awards for floating production, storage and offloading (FPSO) vessels will likely be limited to a single unit in 2020, Rystad Energy believes, as exploration and production firms slash budgets and activity. Similar to the previous downturn, awards are set to recover next year, with seven projects, including ExxonMobil's Payara development, expected to take off.
Modec won the only contract so far awarded in 2020 and will supply a new-built FPSO for Woodside's Sangomar development in Senegal. The vessel, which will be the first FPSO to operate in Senegal, will be supplied on a turnkey basis and feature topsides capable of handling 100,000 barrels per day (bpd) of oil and 130 million cubic feet per day (cfd) of gas. Rystad Energy estimates that the total greenfield capex for Sangomar phase 1 will be around $4.2 billion.
For the remainder of 2020, Rystad Energy said it does not expect to see any new FPSO contracts being awarded. Over the last 10 years, only 2016 saw a lower level of activity when not a single FPSO contract was awarded. However, from 2016 activity quickly rebounded with 27 awards in the three-year period from 2017 to 2019.
"This time too, we expect to see a speedy comeback in FPSO sanctioning with seven projects expected next year, including Bacalhau and Mero 3 in Brazil and Payara (Prosperity) in Guyana," says Aleksander Erstad, energy research analyst in Rystad Energy.
Payara, which is ExxonMobil's 3rd proposed development at the Stabroek Block offshore Guyana is targeting 180,000 to 220,000 barrels of oil per day with a potential start up in 2023. The Payara FPSO – Prosperity – will be a VLCC (Very Large Crude Carrier) size floating facility with double hull protection, with approximate dimensions of 340m long by 60m wide by 33m deep (1,115 ft long by 197 ft wide by 108 ft deep), and will be moored on location. The Payara FPSO will be moored approximately 207 km (128 miles) offshore. The vessel will join the Liza Destiny and Unity FPSOs in Guyana. The Destiny is already producing oil at the Liza Phase 1 Development and the Unity is targeting a 2022 start-up.
Approval of the Payara development has been delayed in part due to ongoing political instability in Guyana which has resulted in an impasse surrounding a presidential election held since March 2, but for which there has not yet been a result. However, with Guyana's highest court making a landmark ruling this week, there could be closure to the now more than four months delay in the conclusion of the elections.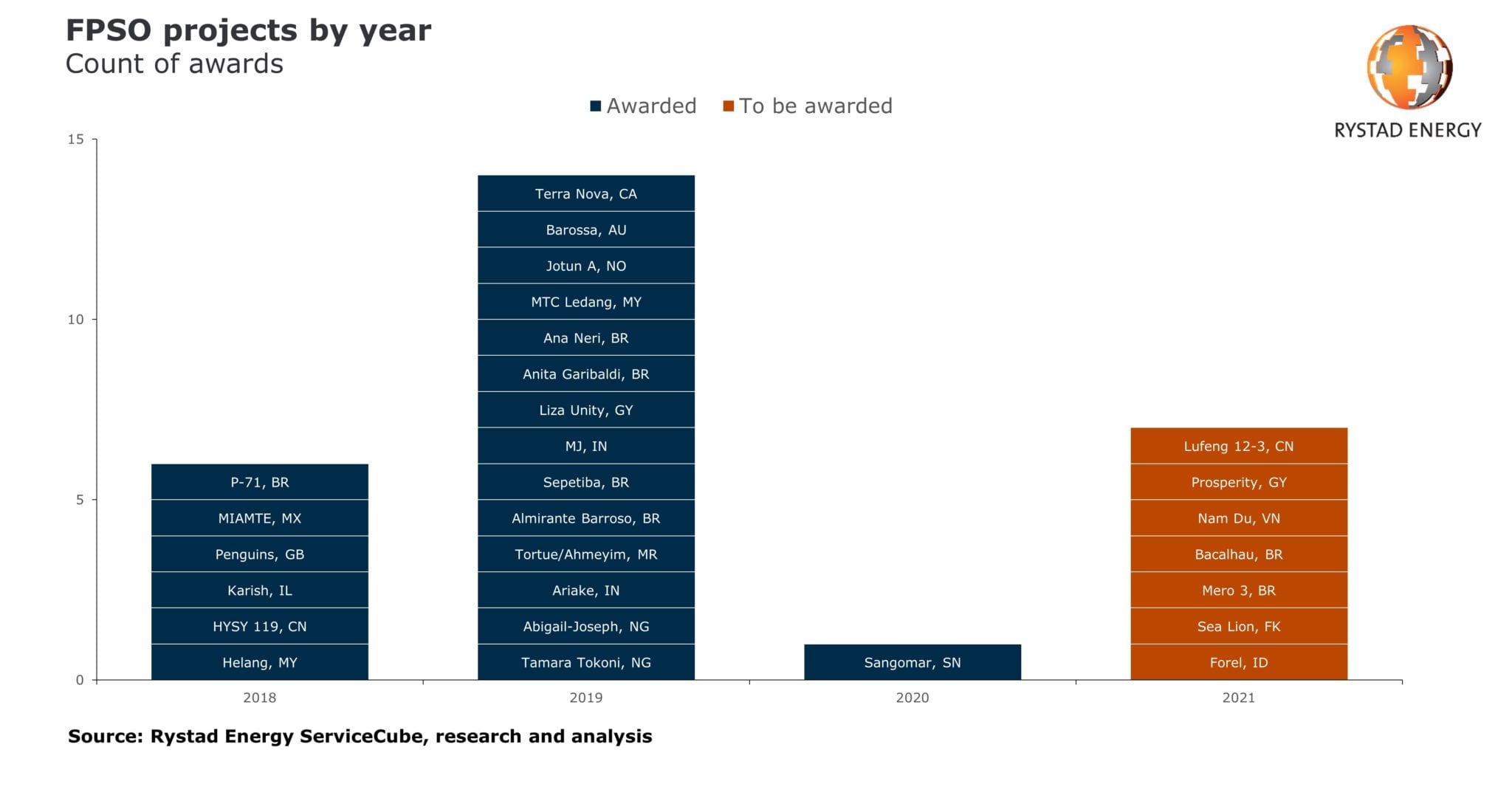 Rystad Energy said aside from new FPSO contracts, three charter contract amendments were disclosed in the second quarter of 2020.
The first contract amendment was for Altera Infrastructure's (previously Teekay Offshore) Petrojarl Knarr, which has been on contract with Shell since 2015. The amendment extends the charter period from March 2021 to March 2022. Under the previous agreement, Shell would pay a penalty if they terminated the contract before 2025. Now, this termination penalty has been removed in return for a new production and oil price tariff. The day-rate is also set to fall from March 2021 as low oil prices hurt the field's profitability. It now seems likely that Shell will shut down the field a few years down the road. Liquids production at Knarr averaged 12,000 bpd in 2019.
In India, Bumi Armada and Shapoorji Pallonji Group received a notification from ONGC about their intention to extend the charter contract for the Armada Sterling FPSO. The seven-year fixed portion of the charter contract expired on April 19 and ONGC now has six annual extension options that can be exercised. The length of the current extension is not yet disclosed as contract formalizations have stalled due to the Covid-19 lockdowns in India. Bumi Armada and Shapoorji Pallonji Group also own and operate Armada Sterling II for ONGC, and a third FPSO for KG-DWN-98/2 is currently undergoing conversion work at Sembcorp's Tuas Boulevard Yard in Singapore.
Rystad Energy said BW Offshore received a charter extension for the BW Cidade de São Vicente FPSO which will keep the vessel employed until October 9, 2020. The FPSO operates as a well testing facility and has performed tests on multiple locations in Brazil since it started working for Petrobras in 2009 as the first production unit in the massive Lula (previously Tupi) field, kickstarting the field's production. Ten years later, the Lula field went on to produce 1 million bpd from nine FPSOs. BW Cidade de São Vicente is currently conducting an extended well test at Farfan in the Sergipe-Alagoas basin.