Guyana is now an impressive oil and gas destination with proven reserves of more than 11 billion oil-equivalent barrels in the Stabroek Block. Through the operations of an ExxonMobil-led consortium, the country will become one of the world's largest per capita oil producers in the next few years.
However, despite unlocking these volumes, Guyana is still relatively small compared to global giants such as the United States and Saudi Arabia. According to a recent analysis from Rystad Energy, global recoverable oil reserves now stand at more than 1.6 trillion barrels, an increase of 52 billion from its 2022 estimate.
Rystad Energy's June analysis of the global energy landscape assessed the 'remaining technically recoverable crude oil and lease condensate', which include expected volumes, including fields, discoveries and risked future discoveries.
Saudi Arabia is at the top of the list with more than 250 billion recoverable barrels of oil, followed by the United States, a distant second, at under 200 billion barrels of oil. Russia, Canada and Iraq – in that order, each have between 100 and 150 billion barrels of recoverable oil.
Iran, China, the United Arab Emirates and Brazil have recoverable reserves each between 50 and 100 billion barrels of oil.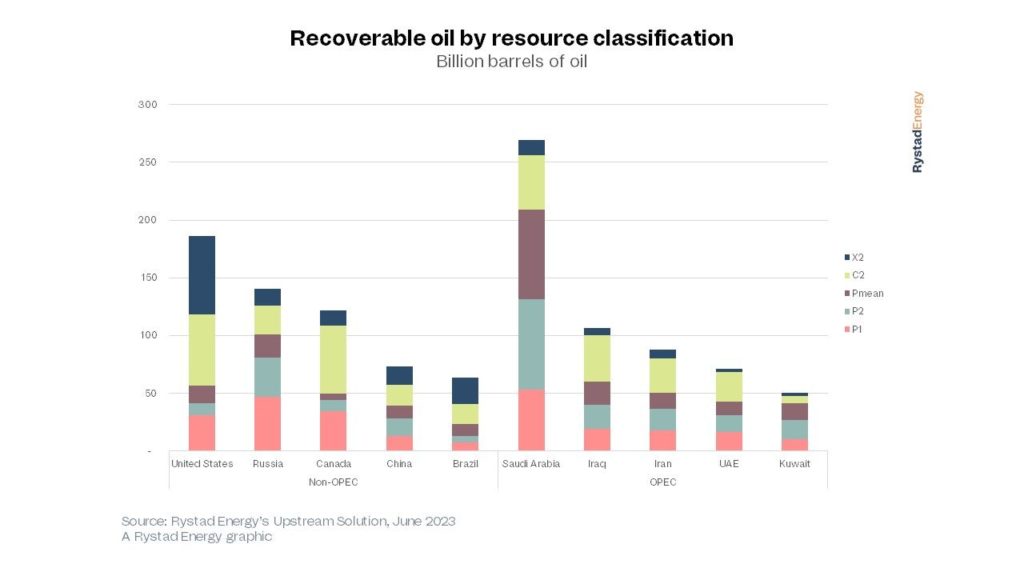 Meanwhile in Guyana, while Exxon has found more than 11 billion barrels, independent analyst like Americas Market Intelligence believe the block holds more than 20 billion barrels. The government also plans to issue 14 blocks at the conclusion of its first offshore licensing round, which President Dr. Mohamed Irfaan Ali said has 25 billion potential barrels at stake. Current block holders aside from Stabroek have also done assessments of their license areas, with several billion more barrels estimated to be at stake. If proven, this would place Guyana on par with Kuwait, which is listed in Rystad's ranking at the #10 spot, with around 50 billion barrels.
As Guyana facilitates expanded exploration at the conclusion of its first offshore licensing round and approves more Stabroek Block exploration by Exxon, the South American country will have an opportunity to rival some of the global powerhouses on Rystad Energy's list.