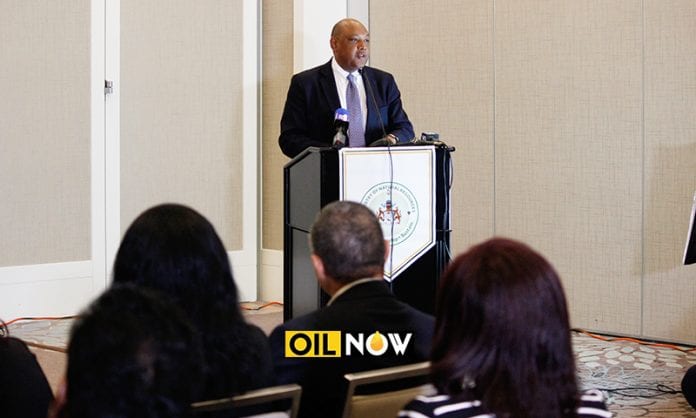 While a draft Local Content Policy framework currently being reviewed in Guyana has been designed specifically for the oil and gas industry, the government hopes that it would serve as a blue print for other sectors in the economy.
Guyana's Minister of Natural Resources, Raphael Trotman, alluded to this on Wednesday at the first in a number of stakeholder consultations set to take place across the country on the current draft Local Content Policy framework. The event was held at the Guyana Marriott Hotel.
Mr. Trotman said there seems to have been some confusion of what a local content policy is intended to achieve, noting that it is not meant to be a mechanism for combatting corruption or ensuring good governance or transparency, as there are other established mechanisms for such purposes.
This would include facilities such as the Extractive Industries Transparency Initiative (EITI) to which Guyana has officially applied for candidacy and seems set to achieve this by the end of the year.
Mr. Trotman said the hope is that other sectors of the Guyanese economy would also benefit from the framework which is now being developed for local content.
"We are hoping that eventually this framework will become…a national model for local content, whether in the mining industry, forestry or any other area that we wish to introduce it into," he said.
At the event, Trinidadian consultant Anthony Paul, author of the draft document, received feedback and offered clarification on the framework which has been under review by stakeholders.
Wednesday's stakeholder engagement saw the participation of a number of agencies and private sector bodies including Georgetown Chamber of Commerce and Industry (GCCI), the Private Sector Commission, the Guyana Manufacturing and Services Association, the African Business Roundtable, the Guyana Oil and Gas Association Inc. (GOGA), the Guyana Bar Association, Institute of Chartered Accountants of Guyana, the Guyana Office for Investment (GO-INVEST), the Guyana Geology and Mines Commission (GGMC), the Environmental Protection Agency (EPA) and the Maritime Administration Department (MARAD).