A number of persons in the mining town of Linden in Guyana on Friday benefited from training to help build their capacity in the oil and gas industry. ExxonMobil's Centre for Local Business Development (CLBD), in its bid to build domestic capacity conducted a training/coaching seminar for businesses and individuals in the Region 10 district of the South American nation.
Held at the Linden Enterprise Network (LEN) business incubator building, CLDB facilitators, through collaboration with the Linden Chambers of Commerce and Industry (LCCI) conducted introduction to O&G training courses, where participants were apprised of the various opportunities in the upstream, midstream and downstream operations of the sector.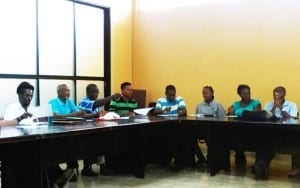 Participants were also provided with remedial training on bid preparation, evaluation and tendering, in order to be better equipped to compete for any of the numerous contracts to become available over the years as a result of the oil discoveries and imminent production.
Linden has in recent decades served as an economic base for the country – during the bauxite heydays when foreign exchange earnings at times sustained the Gross Domestic Product levels at manageable levels. But with the global downturn in the industry coupled with plummeting world prices and other challenges, the once prosperous community has been facing difficulties.
Dream Again
LCCI President, Victor Gonsalves, in welcoming ExxonMobil's CLBD training session, entreated on business representatives "bauxite has came (sic), and it went, we are now in the era of oil and gas."
He was at the time speaking to business leaders in the community representing industries including marketing, construction, catering and supplies among others.
He urged the Lindeners to recognize that it was not a case as in his youth, where dreams could be built on bauxite but rather now it is oil and gas and as such must seize every available opportunity.
The LCCI President told the business leaders "make use of every opportunity to prepare to access the opportunities in O&G…we have to, we can start dreaming again."
CLBD's Senior Business Specialist, Dr. Natasha Gaskin-Peters, following a presentation on the various stages of oil exploration, its production and available opportunities told OilNOW, that among the entity's main goals is the building of capacity among small and medium size business for the oil and gas sector."
Dr. Gaskin-Peters was quick to point out that CLBD's focus in Guyana is not just centered on the Oil and Gas sector, but is involved in agro-processing, tourism and other sectors, "because we don't want when the O&G industry leaves then all of the businesses would have moved to O&G."
The CLBD Business Specialists related to OilNOW; "we want to ensure sustainable economic growth over the future."
Supplier Portal
CLBD has established a 'supplier portal' through which local contractors and service providers can be sourced for contracts provided by ExxonMobil or its sub-contractors.
This, Dr. Gaskin-Peters said, would ensure that ExxonMobil and its sub-contractors "have (access to) a portal of reliable suppliers that they can go to," since registered companies would have to be vetted.
According to the CLBD Business Specialist, Guyanese companies and individuals looking to win any of those contracts would first have to be registered in the supply portal, "we have been saying over and over again, for you to get a tender you must be registered on the portal, if you are not registered you wouldn't benefit."
She explained that this obtains, since ExxonMobil's Teir I and II contractors will be using the CLBD supply portals to identify Guyanese goods and service providers.
Guyanese have so far been to the O&G literacy courses including procurement, being provided and funded by ExxonMobil through the CLBD with more than 800 persons already being trained by the entity, she related.
Other presenters during the one-day forum included another CLBD Specialist; Onecka Newland, who provided the business representatives with a 'crash course' in the procurement and bidding process in order to secure contracts and sub contracts in Guyana's emerging O&G industry.
ExxonMobil's CLBD was launched in July, 2017 to provide a space for local firms to learn about opportunities in the O&G sector, strengthen their competitiveness and prepare to supply the sector with various services.
Friday's activity comes on the heels of a similar exercise with the business community in Berbice and members of the banking community, among others.
OilNOW was told that CLBD intends to continue with its outreaches and 'satellite' training in addition to the courses being provided at its Georgetown Head Office, free of cost.
Funded by ExxonMobil, CLBD is managed by American based DAI Energy and Resources Group.