Guyana's Vice President Dr. Bharrat Jagdeo said on Monday that US$100 million of revenues from the sale of Guyana's crude will be used to build diagnostic centres for hinterland communities.
He discussed the centers during the National Toshaos Conference, a conference he had founded while serving as President, to bring indigenous leaders together from all over the country to address matters concerning their communities.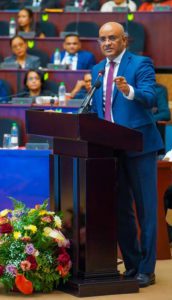 "We anticipate those massive diagnostic centers will cost over US$100M in these areas, over GY$20 billion, that is part of the plan on health care," he said.
"In each of the four hinterland regions; Regions One, Seven, Eight and Nine we will now build a massive diagnostic centre with all the world-class capability to do telemedicine in each of these areas so that you can access some of the best care in every region," the Vice President stated.
He said the government takes its promises seriously.
"If there is anything that you know or you need to learn about the People's Progressive Party, we take the promises that we made to you when we travel around the country seriously," he said.
President Dr. Mohamed Irfaan Ali, who opened the conference, told the leaders that indigenous communities will benefit from the revenues coming from the development of Guyana's oil resources, and that any official who discriminates would be promptly fired.
He also said those communities will benefit from the implementation of the government's Low Carbon Development Strategy (LCDS) 2030. The strategy states that 15% of all the proceeds from the sale of Guyana's forest carbon credits will be set aside for indigenous people.