Guyana's oil sector has been on an upward trajectory since production began in 2019 from ExxonMobil's Liza Phase 1 development. And now, the International Monetary Fund (IMF) sees the country's oil sector gross domestic product (GPD) growing over 100% this year, and by around 30% on average per year from 2023 through 2026.
While Guyana's oil sector grew by 56.9% in 2021, the IMF projects this percentage growth to double to 116.1% this year. In 2023, the growth rate is expected to be 36.8%, then 28.3% in 2024. In 2025, Guyana's oil sector is expected to expand by 36.5%, then a further 31.1% in 2026.
According to the IMF, Guyana is projected to produce 93.4 million barrels of oil by the end of 2022, hitting 124.5 million barrels by the end of 2023. Oil production will continue its steep increase from there onward.
By 2024, the IMF said Guyana's production will be at 155.5 million barrels then 207.0 million in 2025. Production will total a whopping 264.6 million barrels in both 2026 and 2027.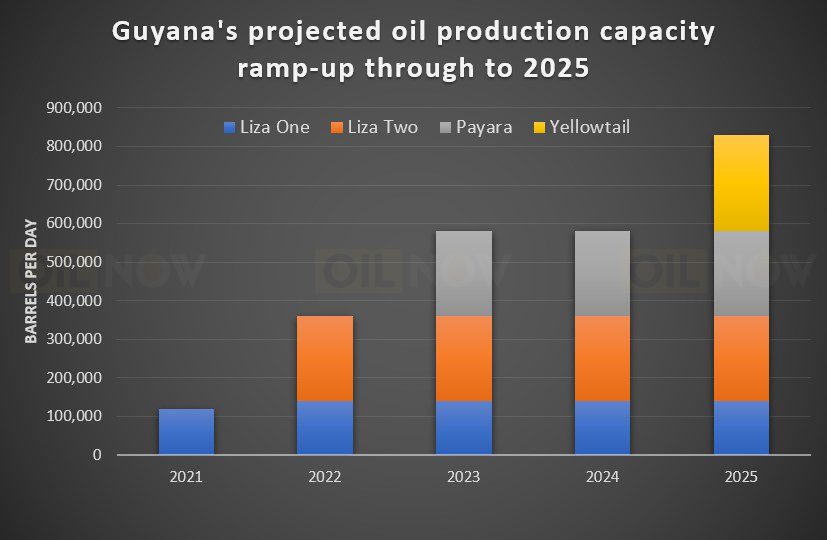 Guyana's Ministry of Finance in its 2022 mid-year report said oil production is expected to surpass one million barrels per day by 2029 but based on the pace of project approvals, this is likely to come even sooner. Estimates from government and the IMF appear conservative, when compared to the Stabroek Block group's plans. Exxon expects production to hit 1.2 million barrels per day (bpd) by 2027 and may even debottleneck vessels to increase oil production capacity.
ExxonMobil has two developments running – Liza 1 and Liza 2 – producing 140,000 bpd and 220,000 bpd respectively. And the IMF has set an average price of US$99.9 per barrel produced in 2022.
When its third development – Payara – comes on stream by 2023, IMF projects an average of US$83.5 per barrel will be gained from barrels across the three developments. By 2024, IMF projects oil prices to fall, reaching US$77.8 per barrel and then down again to US$74.1 per barrel in 2025.
By then, Exxon would have added the Payara and Yellowtail developments bringing the country's production capacity to 830,000 barrels per day.
The Yellowtail development, among approved projects, will utilise Guyana's biggest oil floater – 'ONE GUYANA' – being designed by SBM Offshore to produce 250,000 barrels of oil per day, with an associated gas treatment capacity of 450 million cubic feet per day and water injection capacity of 300,000 barrels per day. The floater will be spread moored in water depth of about 1,800 meters and will be able to store around two million barrels of crude oil.