With oil production set to begin in Guyana by 2020, expectations remain high across the population for more and better paying jobs, even as hundreds of thousands have been laid off globally as a result of declining oil prices and changes in energy use and production.
A total of 351,410 jobs have been slashed by oil and gas production companies worldwide, with the oilfield services sector bearing much of this burden, according to a 2016 report based on statistical analysis by Houston-based Graves & Co.
The analysis was launched in January 2015 and includes job data and layoff announcements dating back to June 2014, when crude oil prices began their downward slide.
The exploration and production (E&P) sector was the second worst sufferer, registering more than 80,000 layoffs, followed by the drilling sector, which has seen more than 52,000 job cuts.
But in a country like Guyana, where oil and gas related jobs have been non-existent, any number of new jobs created by the industry is a plus and bodes well for the economy.
How many jobs does a single drilling rig create and where are they?
According to Alberta Oil, based in Canada, a country which ranks number 7 on the largest oil producers of the world list, a single drilling rig can create approximately 21 direct jobs and 124 indirect jobs. Direct and indirect jobs created from a single well may vary based on type of vessel, location, commodity and price.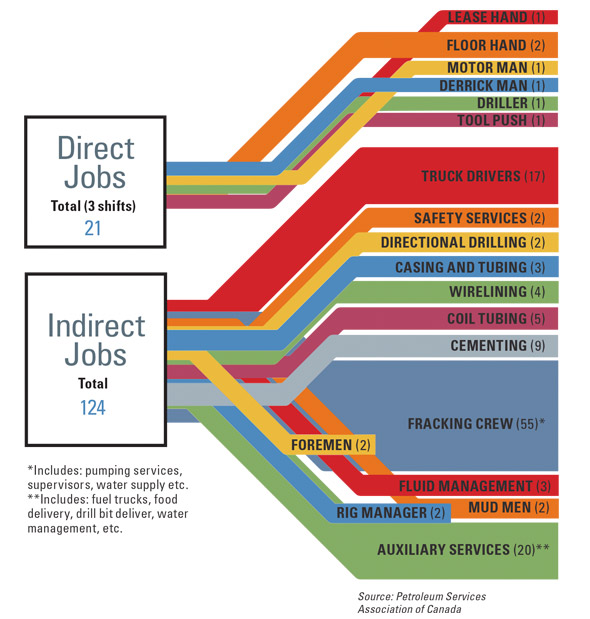 Job creation is usually more significant in the services sector that supports the industry, ranging from hundreds to even thousands, depending on the country and related circumstances. Guyana's Minster of Natural Resources, Raphael Trotman, is on record as saying 600 jobs will be created when an oil and gas facility located at Crab Island, Berbice, comes on stream, in the South American country.
Guyanese however would be best advised to start acquiring the necessary skills and knowledge of what the industry requires and the opportunities that arise from oil production. This ensures that benefits to individuals and the country as a whole are maximized.