Chief Executive Officer of Hess Corporation, John Hess will be plugging nearly US$32 million into a nationwide program to revolutionise public healthcare in Guyana. President Dr. Mohamed Irfaan Ali revealed this during a signing ceremony on Friday for the initiative, a partnership between Guyana's Ministry of Health and the world-class Mount Sinai Health System.
Ali told OilNOW the injection by Hess is not the full cost of the initiative he described as "rolling…"
Hess sits on the Board of Trustees of Mount Sinai Hospital, and was instrumental in bringing this project to fruition. Present at the ceremony was Mount Sinai's Executive Vice President and Chief Clinical Officer, Dr. Jeremy Boal.
Minister of Health, Dr. Frank Anthony said the project involves three components. For the first, Mount Sinai will work closely with the Ministry of Health to strengthen primary healthcare across the country, including preventative care for diabetes, hypertension, cardiovascular diseases, and cancers.
The second component will include change management at the Georgetown Public Hospital Corporation (GPHC). Dr. Anthony said, "We'll be having a team from Morningside Hospital [in Oregon] that would be partnering directly with counterparts at the Georgetown Public Hospital in all the aspects of its operation, and so we'll look at developing clinical excellence."
For the third component, government and private sector will work together to develop two centers of excellence for oncology and cardiovascular care for Guyana and the wider Caribbean.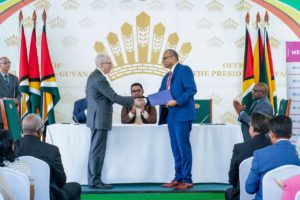 "The signing of this agreement has unlocked not just Mount Sinai's expertise but also, Mr. Hess' philanthropy to help us to develop a world-class healthcare system here in Guyana," Dr. Anthony told attendees.
In his remarks, Hess said Hess Corporation is honoured to be playing a key role in the development of Guyana's oil industry, with the country on the path to becoming one of the largest crude oil producers in the world.
Guyana delivered largest oil and gas discovery in 20 years, more to come – Hess | OilNOW
"Development of this country's natural resources is important to our company, important to Guyana, and important to meet the world's growing energy needs for many decades to come," Hess said.
But more than that, he explained that he considers Guyana's human resource to be its greatest asset, which makes access to affordable, high-quality healthcare critical.
President Ali, who committed to remaining personally involved in this project, said "The goal is to position Guyana as a destination of choice for healthcare services globally."
In this regard, the Hess executive said, "There is no better strategic partner to work with and support the government in realising this vision than Mount Sinai, one of the most respected and finest healthcare institutions in the world."
Hess had, during his participation at the Bernstein's 38th Annual Strategic Decisions Conference in June, said that he is working to help Guyana find the right connections to accelerate its development. He has connected Guyana with economist, Michael Porter, who has been conducting reviews of the systems used to provide government services. These and other interventions are being made by Hess, he had said, in the hope that Guyana will become a regional logistical powerhouse.