Almost three days after Venezuela's navy intercepted a survey vessel contracted to ExxonMobil operating in the western portion of Guyana's Stabroek Block, the 15-member CARICOM body of which Guyana is a founder-member, is yet to issue a statement on the matter.
This was noted by the South American country's former Minister of Natural Resources and the Environment, Robert Persaud, who said on Monday in a Facebook post that CARICOM's silence begs the question of if the regional body is still functioning.
"Is CARICOM still functioning?" he asked, adding, "US, Canada, OAS…have all condemned Venezuela's aggression. Not a squeak from CARICOM, our so-called regional movement."
The former government official, who has been vocal on matters related to Guyana's emerging petroleum industry and the ongoing border controversy with Venezuela, said while silent now, "…nationals are and will invoke CARICOM privileges for our oil and gas opportunities."
Guyana has since lodged a formal complaint with the United Nations over what it described as an "illegal, aggressive and hostile act" perpetrated by the Government of Venezuela which saw the interception of the Ramform Tethys which was conducting a seismic survey in Guyana waters.
The Bahamas flag-carrying vessel was intercepted by the Venezuelan navy at 10.30 hours on Saturday December 22, 2018. At the time it had a total of seventy crew members on board including the Captain.
UPDATE
Two hours afters this report was published on OilNOW, CARICOM Tweeted the following: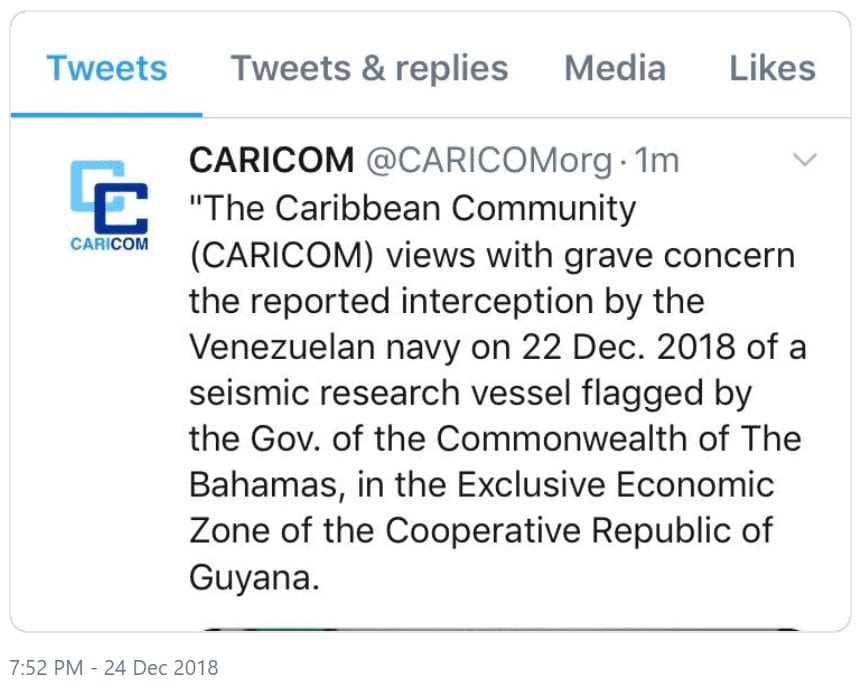 Read the FULL STATEMENT
RELATED
US says Guyana has sovereign right to explore resources offshore as country files complaint with UN
Guyana plans to lodge complaint with UN over 'illegal, hostile interception' of ExxonMobil vessel by Venezuelan navy