Oil projects off the coast of South America have lower breakeven prices and competitive payback times in comparison to similar projects in other parts of the world, which makes them more resilient in the current turbulent times, Norway-based Rystad Energy has outlined in a new analysis.
"Offshore activity in Latin America is expected to recover from 2021 with more than 3 million barrels per day of peak production estimated to be sanctioned in Brazil and Guyana alone by 2025," Rystad Energy said. "Of this, more than 80% of the capacity has breakeven prices of less than $45 per barrel and is expected to get sanctioned despite the current market environment."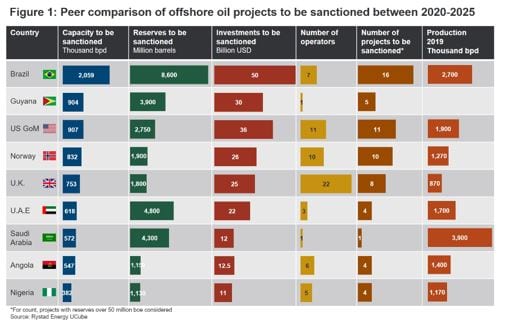 Around 30 offshore oil projects are expected to be given the green light across the continent over the next three years that will require a cumulative greenfield investment in the range of $50 billion. These projects are operated by a mix a of national oil companies (NOCs), majors and independent companies, showcasing the confidence the operators have in the region.
Schreiner Parker, Rystad Energy's Vice President for Latin America and the Caribbean, has told OilNOW fields not yet sanctioned at Guyana's Stabroek Block would require somewhere around 50 billion dollars in green-field expenditure, representing spending from project sanctioning to first oil.
Overview of major offshore producing regions
Rystad Energy said among major offshore producing regions, Brazil and Guyana combined will account for more than one-third of the offshore investments and the capacity to be sanctioned over the next five years. "They will also account for more than 40% of the reserves to be sanctioned. The region is, therefore, expected to emerge as the largest offshore player by the end of the decade."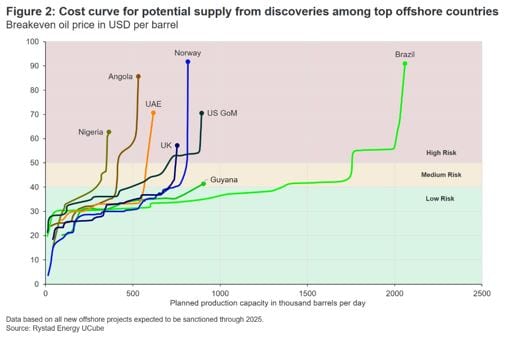 Apart from South America, the United States Gulf of Mexico (GoM) and the North Sea will also see significant expenditure on offshore projects in the medium term while lower investments are expected in Africa and the Middle East, Rystad Energy stated.
"Brazil leads the way in terms of production and investments to be sanctioned with around 16 major offshore oil projects expected to enter the development phase in the country over the next five years. Of these projects, 14 are planned to be developed by FPSOs," the research and business intelligence company said.
The estimated recoverable resources at Stabroek Block currently exceed 8 billion barrels of oil equivalent and this is expected to further increase, particularly with the recent detection of additional deposits at the Yellowtail-2 well area and ongoing exploration activities.
"Guyana will be a new entrant this decade in the list of major offshore producing regions…," Rystad Energy said. "Close to 4 billion boe of reserves are expected to be sanctioned by 2025 that will require investments in the range of $30 billion and will contribute more than 900,000 barrels of oil per day at peak production."
Rystad Energy points out that the recent capex cuts announced by owners ExxonMobil and Hess will not significantly affect the development of Stabroek as it remains an attractive asset even in the current low-price scenario.