Guyana's Ministry of Natural Resources (MNR) developed a special website in 2021 as part of its Petroleum Management Programme, dedicated to making information about the country's oil and gas sector publicly available. The platform, since May 2021, has been providing reports on the volume of oil produced every day since January 10, 2020 – one month after first oil at the Liza Phase 1 project.
Graphical data on the site show day to day production at the offshore developments. Since May 2021, one graph followed production at the Liza Phase 1 project until earlier this year, when Liza Phase 2 came on stream. This graph now shows total production offshore Guyana, which peaked at 365.3 thousand barrels per day on June 3, this year.
A second line graph was introduced last April to disaggregate between the production of Liza crude and Unity Gold crude.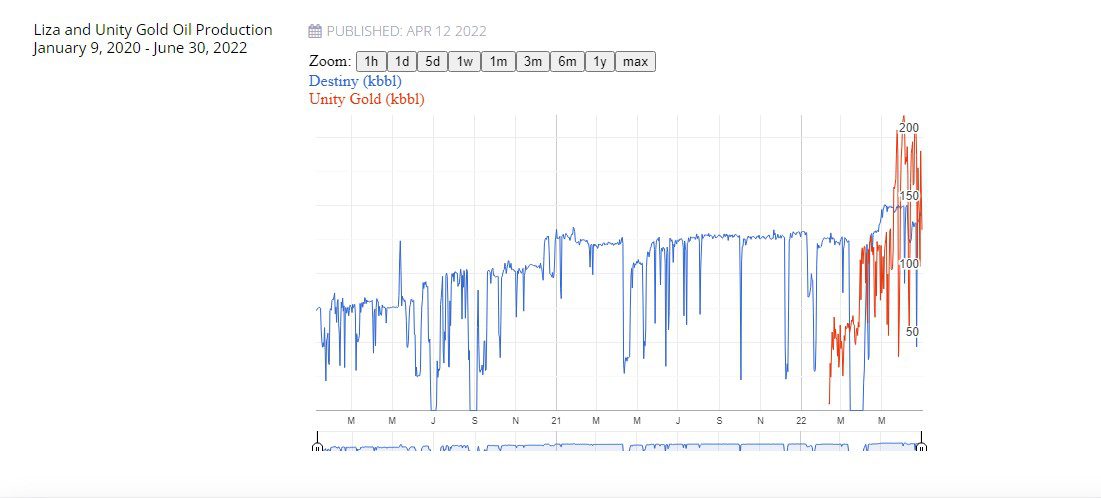 Senior Petroleum Coordinator at MNR, Bobby Gossai Jr., told OilNOW that the production data is generally updated monthly. The ministry receives daily production reports that are later verified against monthly production reports before being posted online, he explained.
As of August 8, oil production data was available up to June 30, 2022. The July data is expected to be added once verification is completed for that month.
'Unity Gold' lighter and sweeter than other carbon-intensive blends in Latin America – Platts
The Petroleum Management Programme also provides for updates on other production data. Regarding produced water, provision is made for data on water injection and production. As for the associated natural gas from the Liza projects, provision is made for data on gas produced, injected, used, and flared. Data on natural gas and produced water is not up to date.
Oil price data is published daily, showing the price of Liza crude against dated Brent crude. According to the Programme, the source of oil price data is S&P Platts Crude Oil Market Wire.
In its most recent report on Guyana, the Extractive Industries Transparency Initiative (EITI) said Guyana achieved a "fairly low overall score" of 52 points for implementing the 2019 EITI Standard. Specific to the Transparency component, the EITI Board said Guyana has made commendable efforts to use EITI implementation to ensure disclosures on areas of public interest, including contract transparency, commodity sales and environmental aspects of the extractive industries, reflecting priorities of civil society in particular. In light of this, Guyana scored 53.5 points.
It is notable that EITI reviews also include data on other sectors such as mining and forestry. Guyana has until April 1, 2024, to carry out 32 corrective actions, including where transparency is concerned.
In presenting this information during a recent visit to Guyana, Rystad Energy's Senior Vice President and Head of Latin America and the Caribbean, Schreiner Parker, noted that Guyana is far below the mature, well-performing Norway, which has always stood out as a model manager of its oil wealth. However, Parker noted that Guyana scored above Mexico, a producer that has also been in the oil business for a long time – more than 100 years.
He said recent actions taken by the Guyana government reflect a willingness to get things right, and that he expects Guyana's EITI score to increase as these actions are taken into account.