For Espen Erlingsen, Head of Upstream Research at Rystad Energy, the era of trillion-dollar revenues from the oil and gas sector seemed like it had passed a year ago.
But new research by the Norway-based energy research and business intelligence company shows that this is not the case. Uremitting high commodity prices and increasing oil and gas supply will see world governments getting US$2.5 trillion in 2022 – a smashing record when compared to the US$2.1 trillion back in 2011.
"Today, it is clear that we are heading into a supercycle that will benefit petrostates," he said.
Rystad found that Saudia Arabia will rake in the most revenue, with the United States (US) and Iraq following behind.
Americas Market Intelligence (AMI) said in March that the Latin American region would benefit significantly from petroleum revenues caused by the high oil price situation. It had said Brazil and Guyana would reap 'very positive' overall impacts from higher energy prices.
Petrobras set to become world's largest oil producer | OilNow
Brazil, as the larger producer, was the only South American nation to make Rystad's top 20 list that was dominated by Middle Eastern producers. Mexico also made the list.
And that is largely due to the fact government takes vary "considerably" between nations, Rystad said. To give context, Norway and Iraq see an average take per produced barrel of oil equivalent (boe) of around US$100 but for the US and Canada, the figure is below $20 per boe.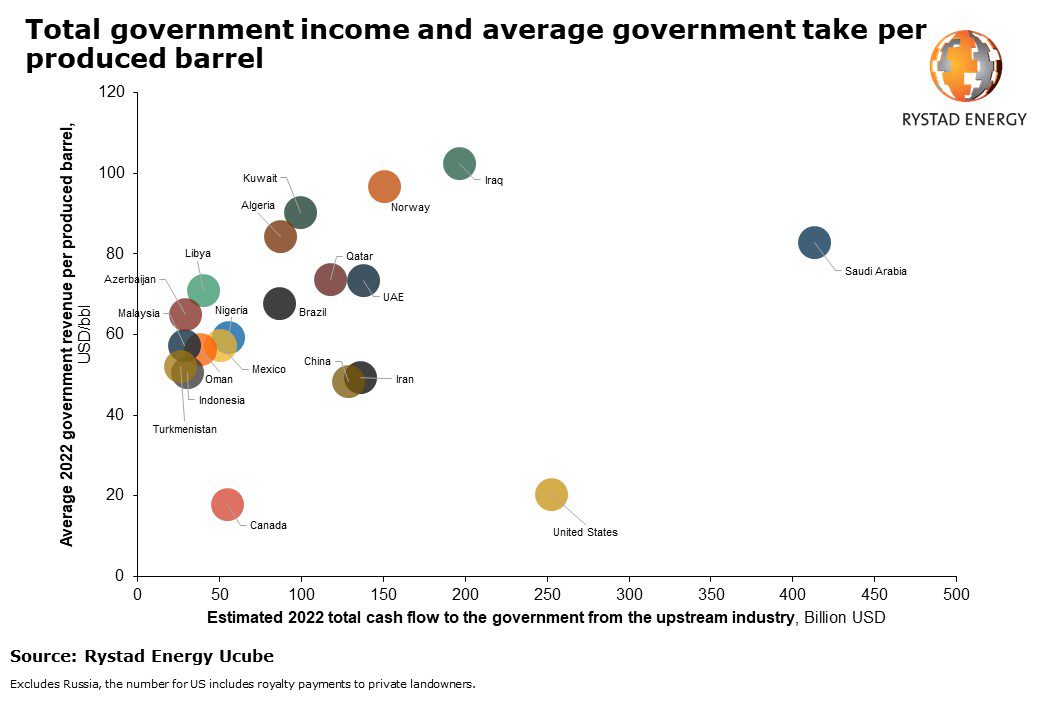 Rystad's research found that the total tax income in 2020 was just above US$600 billion as low oil and gas prices and production cuts due to the outbreak of the COVID-19 pandemic early in that year sent such income to one of the lowest levels this century.
But total tax income increased last year to US$1.4 trillion, with higher commodity prices being the main driver behind the rise.
And so, Erlingsen pointed out that "These record revenues present an unparalleled opportunity to diversify economies."
Saudi Arabia is set to be the largest beneficiary "in absolute terms", Rystad said with some US$400 billion in revenues expected from its cornerstone industry this year – a ramp-up of almost US$250 billion from last year. Saudi Arabia had started increasing its crude prices even before Russia invaded Ukraine.
Saudi Arabia jacks up oil prices after crude surges towards $95 | OilNow
Coming in second is the US with around US$250 billion set to be paid to the government, an increase of US$100 billion when compared to 2021. Then, in the third spot is Iraq with about US$200 billion – a doubling of its income when compared to 2021, Rystad said.
Despite being the 10th largest oil and gas producer globally, Norway comes at fourth place with US$150 billion. And this, according to Rystad, is largely due to European gas prices, low levels of cost, and large government ownership.
Brazil ranked 11th, raking in close to US$100 billion.