QatarEnergy has now added oil supermajor Shell as a joint venture (JV) partner in its mega North Field East liquefied natural gas (LNG) project.
Shell will hold a 25% stake in the JV company that will own 25% of the North Field East (NFE) expansion project. The entire NFE project includes four mega LNG trains with a combined nameplate capacity of 32 million tonnes per annum.
Shell's investment in this LNG expansion will support the delivery of much-needed supplies of natural gas to markets around the world. The project will also be integrated with carbon capture and sequestration to reduce emissions.
"I am honoured that Shell has been selected by QatarEnergy," said Shell's Chief Executive Officer, (CEO) Ben van Beurden. "This agreement deepens our strategic partnership with QatarEnergy which includes multiple international partnerships such as the world-class Pearl gas-to-liquids (GTL) asset. We are committed to maximise the value of the LNG expansion for the State of Qatar and continue to be a trusted, reliable, and long-term partner in Qatar's continued progress."
ExxonMobil also has a 25% stake in the project. Other oil supermajors like Eni and TotalEnergies are also on board.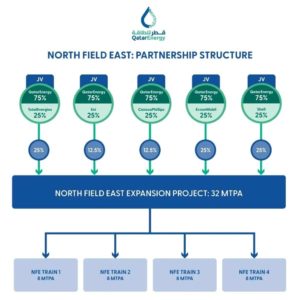 The expansion of North Field East and increased LNG export capacity is one of Qatar's key energy objectives. QatarEnergy is the operator and commenced the North Field East project in 2019. First LNG from North Field East is expected in 2026.
The gas field is spread over 6,000km² and is being developed by leveraging the infrastructure of existing projects such as Qatargas phases 1-4, Ras Laffan phases 1-3, and Al Khaleej gas projects.
The offshore field expansion is expected to have a production capacity of one million barrels of oil equivalent a day, while the onshore processing facility is estimated to produce approximately 32Mtpa of LNG.