Talk of Guyana having an oil refinery have ramped up in recent months. The governing administration is exploring options, having received proposals from eager investors.
Though no final determination has been made, Guyana's Vice President Dr. Bharrat Jagdeo believes that even a small one can serve to strengthen the country's energy security.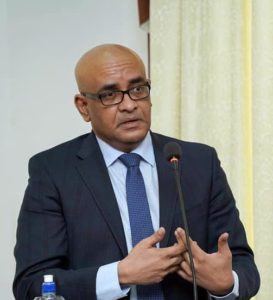 "Because if we have [a] disaster, and we cannot get our supply of cooking oil, gas or kerosene or anything else, having a local refinery – even a small one, can have a big difference for national energy security," he told reporters at a recent press conference.
One local economist, Richard Rambarran, had called for a modular refinery to be considered to meet at least domestic consumption when the Ukraine war caused fuel prices to skyrocket. Guyana's state utility company had to up its budget for heavy fuel oil purchases this year, as prices surged.
A refinery in the country would allow for local production of certain fuels.
One company – Chemtech International, has already applied for environmental authorisation to build a US$200 million oil refinery and petrochemical manufacturing complex.
The government is also considering other factors. These include the emissions from the refinery, the contractual arrangement for the selling of crude and also the fiscal concessions to offset the scale of the investment.
"When you look at concessions you have to give, in the long run, it may net out some of the other benefits," Dr. Jagdeo explained.
Before any decision is made, Rystad Energy's Senior VP, Schreiner Parker urged Guyana to consider the long-term viability of such an investment, given the energy transition.
Guyana's Caribbean sister state, Trinidad and Tobago, already has a good lesson for what not to do. The dilemma surrounding Mexico's Dos Bocas Refinery is another.