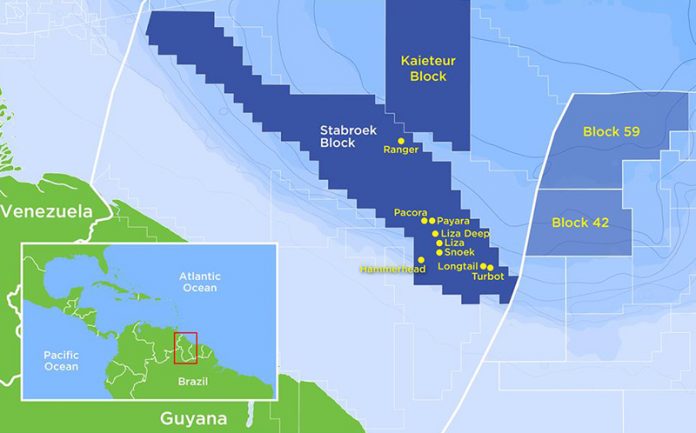 The oil reserves discovered in the 6.6 million acres Stabroek Block located 120 miles of the Guyana coast will help to supply the world's growing energy needs. The magnitude of the discoveries made so far by US oil major ExxonMobil is significant and will have far-reaching impact on global energy supply as well as the development of the lone English-speaking South American country on the continent.
In its November 14 Edition of the Energy Factor, ExxonMobil ran some numbers to show all the things that the more than 4 billion barrels of oil that the block is estimated to hold could power. To help illustrate the scale of the discoveries, the company said the massive Guyana reserves could power any one of the following;
Provide enough energy to power 16,878 rocket trips to the moon
Manufacture tyres for 6 billion cars
Fuel 477,213 fuel-efficient commercial jets
Drive a new car around the planet 93 million times
Meet France's petroleum needs for 7 years
The company said it is supporting local priorities in Guyana including business and employment opportunities as well as broader community programmes.
"Our activities contributed to over US$26M to Guyanese companies in the first half of 2018. More than half of the total workforce on the project is Guyanese," the company said.
Guyana poised to be world's largest oil producing country per person in 2020s
The Liza Phase 1 development will begin producing oil by early 2020 and will be closely followed by Liza Phase 2 in 2022. By 2025, ExxonMobil estimates that it could be producing as much as 750,000 barrels of oil per day from around 5 developments in the Stabroek Block, utilizing 5 floaters.
Industry analyst Wood Mackenzie sees this number rising to 1 million barrels per day at peak and has pointed out that the ramp-up in the Stabroek Block by ExxonMobil is faster than anything ever achieved in the industry.