What's the best way to get a great job in the rapidly emerging oil and gas sector?
If you're up-to-date on current business trends, your best bet might be to sign up with Strategic Recruitment Solutions (SRS); a 100%-owned Guyanese recruitment agency that was recently launched in the South American country to seek out skilled personnel and get them ready for employment in the oil and gas industry.
The business world has changed. Looking for jobs by trolling vacancy ads for openings that fit your skills, then sending off your résumé with crossed fingers just doesn't work well anymore.  And there's a good reason why things have changed.
In today's fast-paced business environment, many progressive businesses are turning to companies like SRS to fill their job openings, rather than waste valuable time and money trudging through the process themselves.
Chief Executive Officer of SRS, Ms. Kerri Gravesande knows the importance of getting the right persons for jobs. It requires understanding the needs of employers, the jobs offered and types of candidates required, before managing interviews and negotiating the remuneration between both parties.
That is why Ms. Gravesande has been proactive in reaching out to local institutions and other organisations where she can source skilled persons with competencies in fields that would be useful to the oil and gas industry. In this way, she is establishing an oil and gas skills pool with Guyana's top talent.
Already, she has established a working relationship with Carnegie School of Home Economics to recruit candidates with culinary arts and hospitality skills. Three persons were selected to undergo the Basic Safety Training and Ship Security Awareness courses at MatPal Marine Institute, Critchlow Labour College Compound, Woolford Avenue, Thomas Lands, Georgetown.
Ms. Gravesande explained that these courses are among essential pre-requisites to working on board any of the oil and gas vessels. Employees have to complete comprehensive, rigorous courses which include training in personal survival techniques, basic firefighting training, elementary first aid techniques, personal safety awareness and proficiency in security awareness.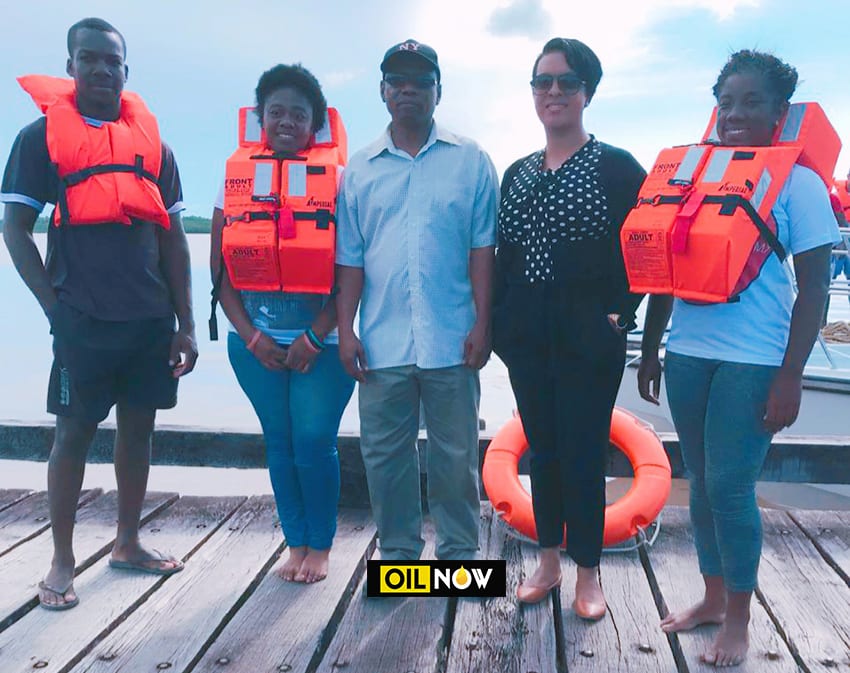 "It is something they would have to want to be interested in and be interested in an offshore career. There is a lot of water-based activity. They have to do a firefighting course, they have to go into a lit firehouse and put the fire out of course using the requisite techniques," she said.
Ms. Gravesande said her recent presentation at Carnegie School of Home Economics on employment in the oil and gas sector has generated considerable interest among persons who have been contacting her personally with questions and to seek guidance.
As a female founder of her agency, Ms. Gravesande is particularly excited about the interest shown by women in the sector. In fact, two of the three graduates from the Basic Safety Training and Ship Security Awareness are women.
Another batch of candidates from Carnegie School of Home Economics will undergo the next sessions of these two courses scheduled for this month.
Additionally, SRS is in the final stages of discussion with Saipem America (Guyana Office) in relation to how she can help them fulfill their local content needs.
"I am very passionate about local content…so I am eager to be on board with them to be able to work with them on their local content strategies."
Meanwhile, she advises those who wish to work aboard oil and gas vessels to register with SRS for the Basic Safety Training and Ship Security Awareness courses which run for a duration of seven weeks at a time.
She noted that SRS is a pivotal vetting agency for employers in the oil and gas sector who seek to take advantage of the recruitment agency's knowledge, expertise and resources to bring in more suitable candidates faster.
Strategic Recruitment Solutions, under its founder Kerri Gravesande, was recently launched with the intention of offering manpower services with special focus on the emerging oil and gas sector.
Ms. Gravesande is keen on her company being recognized as the industry leader in the provision of temporary and permanent staffing solutions and management of solution-driven engagements.
She has also spearheaded the recruitment and training of dozens of Guyanese who found jobs offshore with companies such as Stena Carron and Edison Chouest, key contractors of US oil major, ExxonMobil.