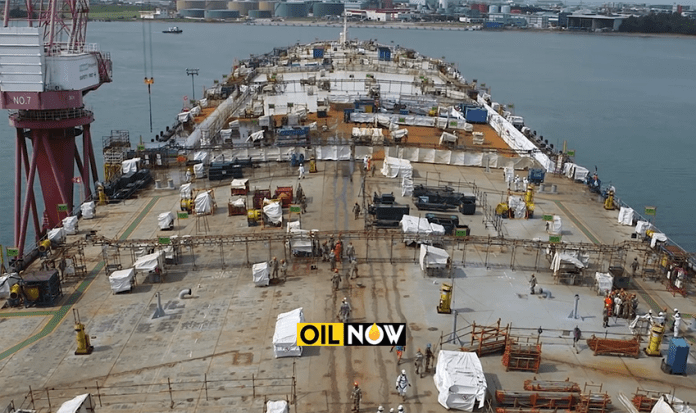 The Bahamas-flagged Tina Very Large Crude Carrier (VLCC) – the vessel being converted to the Liza Destiny FPSO – has successfully dry-docked for the first time at Keppel's shipyard in Singapore.
ExxonMobil Guyana says the vessel is expected to be in the dry-dock for about 60 days with work focused on bilge keel installation, lower riser balcony installation, some hull steel renewals and coating work on the hull.
Dutch floater specialist SBM Offshore has been contracted by ExxonMobil to install, lease and operate the Liza Destiny.
Philippe Moulin, Operations Manager of SBM Subsidiary – Guyana Deepwater Operations Inc., told OilNOW in February the engineering work for the Liza Destiny is in an advanced stage and is being conducted from four different places.
"This work will go on for another year and a half where the vessel will sail away mid next year. At the moment they are working on the conversion part of the tanker whilst on parallel some work is ongoing to build all the processed topside module that will be laid onto the FPSO sometime next year," he said.
The FPSO will be designed to produce up to 120,000 barrels of oil per day, and will have associated gas treatment capacity of approximately 170 million cubic feet per day and water injection capacity of around 200,000 barrels per day. The converted VLCC FPSO will be spread moored in water depth of 1,525 meters and will be able to store 1.6 million barrels of crude oil.