TotalEnergies made an additional hydrocarbon find while appraising its Isabella discovery (P1820) in Block 30/12d-12, located in the Central North Sea of the UK Continental Shelf.
This was reported by its partner in the license, Ithaca Energy.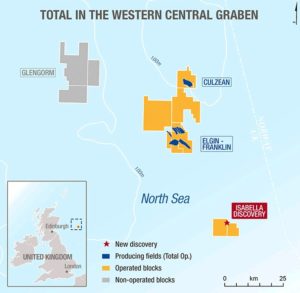 Hydrocarbons were encountered in Upper Jurassic and Triassic sandstone reservoirs, with 148 feet (or 45 metres) of net thickness.
TotalEnergies and Eni make new gas discovery offshore Cyprus | OilNOW
Ithaca said logging while drilling and wireline logs were acquired to establish reservoir quality. Total intends to complete the gathering of data, plug and abandon the well, and evaluate the drilling results to establish commerciality of the reservoir. The well was drilled to a total depth of 15,600 feet (or 4,754 metres) in water depths of 262 feet (or 80 metres). The gross cost of drilling the appraisal well is approximately £66.6 million.
TotalEnergies, Eni announce significant gas discovery off Cyprus | OilNOW
Isabella lies about 25 miles south of Total Energies' Operated Elgin Franklin Field and 105 miles east of Aberdeen. It was discovered in 2020.
TotalEnergies is the operator with a 30% stake. Ithaca has 10%, Neptune E&P Limited has 50%, and Energean Exploration Limited has 10%.