Twelve oil companies operating in Guyana are among those submitting information to the Guyana Extractive industries Transparency Initiative (GYEITI) National Secretariat for compilation of the country's second report.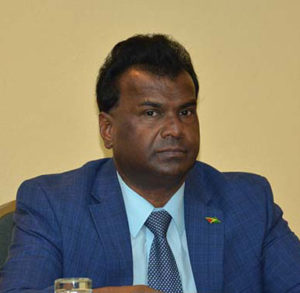 GYEITI National Coordinator, Dr. Rudy Jadoopat, confirmed to OilNOW on Friday that the Independent Administrator, BDO LLP, forwarded the reporting templates to the reporting entities – Government agencies and companies – and is already receiving the completed templates.
Guyana became a full EITI implementing country in October of 2017 and as a requirement submitted its 1st EITI Report in April 2019. Guyana's 2nd EITI Report was initially due on December 31, 2020 but this date has since been pushed back to March 31, 2021.
Dr. Jadoopat said nine government agencies and fifty-nine extractive entities are included in the reconciliation scope. Information from these entities will be included in the country's 2nd report.
"All 12 oil and gas companies are included," he stated.
OilNOW understands that the deadline for submissions by the reporting entities is February 5. The submissions should include the signed templates and all documents that have to be signed by authorized representatives of the company along with certified audited financial statements.
Beneficial Ownership
Guyana is required to implement the Beneficial Ownership Requirement 2.5 in the EITI Standard – the instrument to which Guyana must subscribe as an EITI implementing country and which lays out several requirements to ensure transparency in the extractive sector's management.
At the time of preparation of the 1st Report in 2018, full details of the beneficial owners of companies operating in Guyana's extractive industries was not a requirement. However, the GYEITI Multi-Stakeholder Group (MSG) published a Beneficial Ownership Disclosure Roadmap on June 12, 2019 and it has been recommended that information on beneficial ownership be made publicly accessible and linked to other e-Reporting systems.
Guyana's Vice President, Bharrat Jagdeo, has said the government is in full support of this initiative. "Every beneficial owner should be known and if the [oil] blocks change hands, then they should update this," he said. "So, we know at all times who owns the different blocks or what shares of the blocks. I'm in favor of this at any or all times…and the EITI report would be public on that."
When asked to confirm if companies are required to include this information in their submissions for the 2nd EITI Report, Dr. Jadoopat said, "Yes, the extractive entities which are included in the reconciliation scope are being asked to provide beneficial ownership information."
Guyana's first EITI Report was submitted on April 25, 2019.