In February, crude flows from the United States to India totaled 2.11 million mt, about 31% higher than the 1.61 million mt from Saudi Arabia, putting the US as the No. 2 importer during the month, trailing only top importer Iraq, who shipped 2.89 million mt of crude.
S&P Global Platts said while the surprise twist in February buying patterns stemmed partly from an evolving demand trend, analysts have pointed out that it also signals New Delhi's objection to the OPEC+ production cuts, which have prompted India to diversify imports.
According to a Reuters report this week, the first cargo to be shipped from new oil producer Guyana to India departed this month from the Stabroek block in a vessel chartered by trading firm Trafigura. This is based on data from Refinitiv Eikon. The cargo was bought by HPCL-Mittal Energy Ltd, a joint venture between state-run Hindustan Petroleum Corp and steel tycoon L.N. Mittal.
High Commissioner of India to Guyana, Dr K J Srinivasa recently indicated India is willing to purchase Guyana's share of Liza Crude at market value on an annual basis. However, authorities at the Ministry of Natural Resources in Guyana told OilNOW on Wednesday that no decision has yet been made by the government on such sales.
Guyana's 5th oil cargo was sold to Hess, no decision yet on exports to India
India Petroleum Minister Dharmendra Pradhan told S&P Global Platts that New Delhi has an aggressive diversification strategy in place that provides flexibility in sourcing cargoes from a world awash with oil. This has also seen the stellar rise of the US from supplying its maiden crude cargo to India to becoming its second-largest supplier in three years.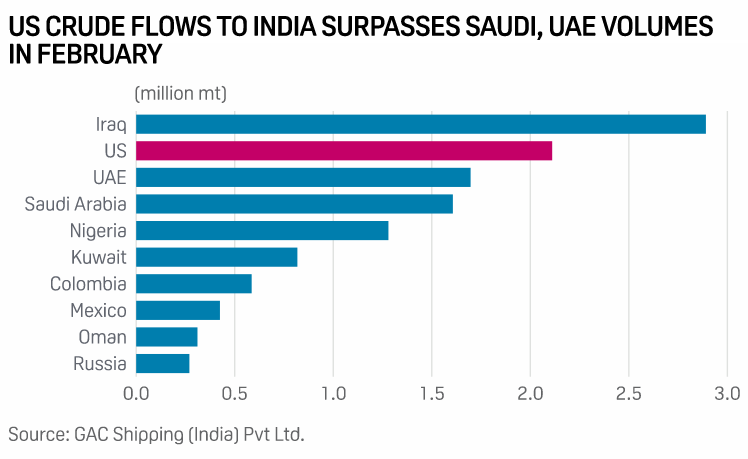 India imported 12.69 million mt of US crude in 2020, up nearly 29% from a year earlier, as the country moved from the sixth-largest crude supplier the year before to the fifth-largest last year, data from GAC Shipping (India) Private Ltd. showed.
"The recent prices are pinching us a bit but we have to sail through the tide," Pradhan is quoted as saying by S&P Global Platts. "Oil producers should realize that we as leading consumers are guarantors of their domestic production."
With reference to New Delhi's objection to the OPEC+ production cuts, Pradhan said, "If you push a consuming country to the wall, it will move to alternative sources."