Today's oil and gas industry is strikingly concentrated. Almost three-quarters of resources are in just 10 basins that hold more than 100 billion boe. Fewer than 50 traditional super basins supply more than 90% of the world's oil and gas. These are defined as originally holding more than 10 billion boe resources, of which more than 5 billion boe remains.
This is according to analysis from Wood Mackenzie, a global research and consultancy group based in the United Kingdom.
"Basins drop off the list as they mature and fall below this threshold," WoodMac said. "Exploration occasionally opens up new super basins, with Santos (Brazil), Rovuma (Mozambique) and Guyana (including Suriname) added to the list since 2000."
Guyana among potential 'energy super basins' of the world – WoodMac
The consultancy group said future success by frontier wildcatters may add a handful more, with regions such as the Orange Basin of Namibia and South Africa perhaps being the next strongest candidate.
Importantly, WoodMac said decarbonising the upstream is the industry's most pressing sustainability task. Traditional super basins enjoy economies of scale and efficiencies, which help lower Scope 1 and 2 carbon intensity, but are not enough. High-carbon sources of supply must be displaced by advantaged, low-carbon resources.
"The initial focus must be on slashing scope 1 and 2 emissions." WoodMack said.
Guyana is positioned to play a major role in delivering low carbon intensity barrels to a global economy still dependent on fossil fuel to meet its energy needs. Hess Corporation, a 30% stakeholder in the prolific ExxonMobil-operated Stabroek Block offshore the South American country, has said the world will need those low cost, high value resources.
The country is already positioned to be one of the highest margins, lowest carbon intensity areas, delivering the highest growth globally.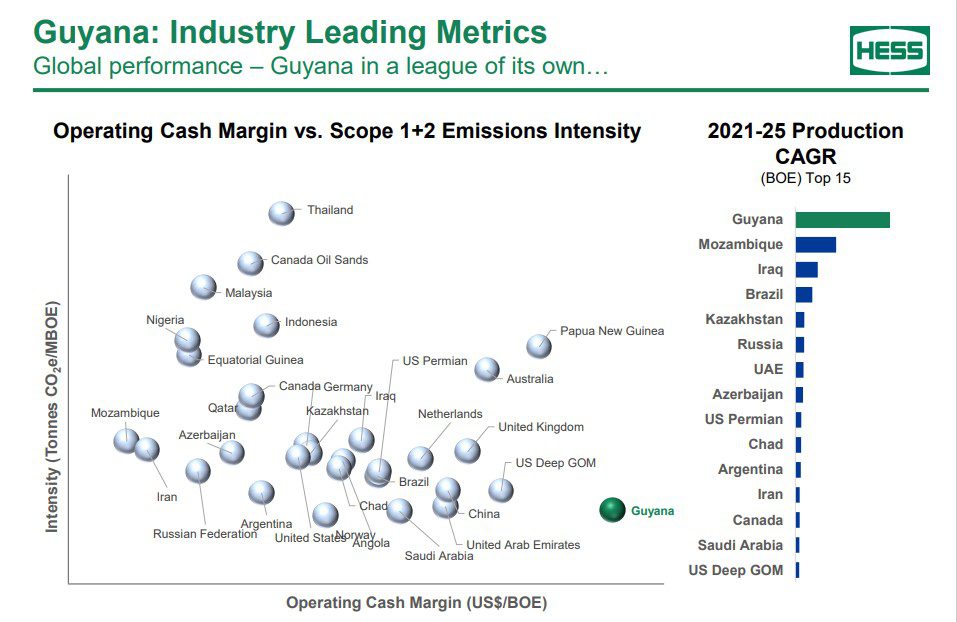 Guyana's Vice President Dr Bharrat Jagdeo announced in December that Exxon has been given the green light by the government to conduct carbon capture and storage (CCS) studies so that the company may utilize it in its offshore operations.
"Exxon sought permission and we have given that permission to do a study on carbon capture and storage," Mr. Jagdeo said.
Last year the company announced major plans to commercialize its low carbon technology portfolio, with initial focus on CCS by launching ExxonMobil Low Carbon Solutions.
To date, approximately 11 billion barrels of oil equivalent resources have been found at the Stabroek Block, making Guyana the biggest emerging super basin on the planet.