With the energy transition in full swing, emphasis is being placed on making the global upstream industry more sustainable. To do this, the focus has to be on abundant oil and gas resources in locations with access to low-cost renewables and carbon capture and storage (CCS) potential.
These are the geological energy 'super basins' of the future, according to consultancy group Wood Mackenzie, and Guyana's is potentially among the few in the world.
Gas pipeline seen as low carbon vehicle to Guyana's renewable energy future
WoodMac in a recent report outlined that less than 50 traditional super basins supply more than 90% of the world's oil and gas. These are defined as originally holding more than 10 billion oil-equivalent barrels.
"Until the Paris Agreement on climate change, the industry had developed these basins much like any other commodity, with the primary objective of resilient growth at the lowest cost. The overall footprint today, therefore, barely reflects new sustainability and carbon goals," it pointed out.
But only a fraction of these basins holds the low-carbon advantaged resources needed.
According to WoodMac, Brazil's Santos Basin, Rovuma Basin in Mozambique and the Guyana Basin (along with Suriname) are among the budding energy super basins. Others include the Gulf Coast and Permian in the United States (US), the Rub' al Khali in the Middle East, the North Sea, North Africa, and Australia's North Carnarvon.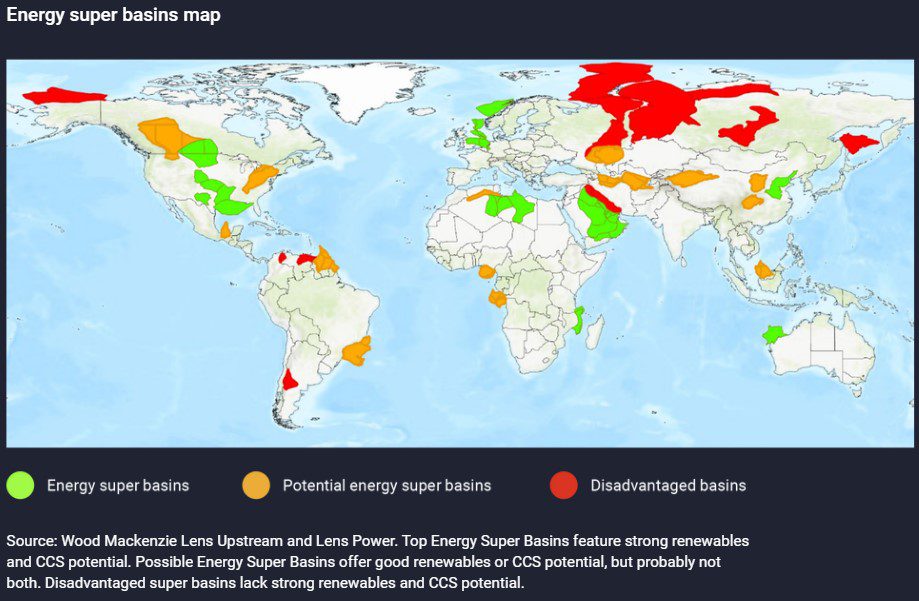 "These basins can look forward to healthy, coordinated upstream, renewables and CCS investment for decades to come. They will supply oil and gas long into the future under all demand scenarios," WoodMac said.
Guyana already has the main ingredients to become an energy super basin. Its current resource stands at close to 11 billion barrels of oil equivalent – from discoveries made in the ExxonMobil-operated Stabroek Block.
The world needs Guyana's low carbon intensity oil developments, Hess tells investors | OilNOW
Added to that, Guyana is positioned to play a major role in delivering low carbon intensity barrels to a global economy still dependent on fossil fuel to meet its energy needs.
And ExxonMobil is already unbeaten globally when it comes to its involvement in CCS – a process that mitigates the onset of global warming by reducing the volume of harmful gas emitted into the atmosphere. The oil major says its carbon capture capacity totals about nine million tonnes per year. With over 30 years of working with CCS technology, it says it was the first company ever to capture more than 120 million tonnes of CO2 which is equivalent to the annual emissions of over 25 million cars.
Exxon granted approval from Guyana to conduct carbon-capture study – VP Jagdeo
Exxon even commercialised its low carbon technology portfolio, with initial focus on CCS by launching ExxonMobil Low Carbon Solutions. The company has been advancing plans for more than 20 CCS opportunities around the world, investing US$3 billion into low carbon energy solutions globally through 2025.