Nestled on the north coast of South America, Guyana and Suriname are among the smallest of the countries on the continent. But with the discovery of multi-billion-barrel hydrocarbon resources, the economic prospects of these upcoming potential giants are among the brightest.
Recent discoveries in the Guyana-Suriname basin attest to estimates of 10+ Bbbl of oil resources and more than 30 Tcf of gas, Thomas Cool and Lumay Viloria of consultancy group Endeavor Management said in a recent analysis.

"Like many oil and gas successes, this is a story that begins with early exploration success onshore, followed by a long period of exploration disappointment in coastal to shelf regions offshore, eventually culminating in deepwater success," Cool and Viloria state.
They said ultimate success is a testament to the Guyana and Suriname governments and their oil agencies' perseverance and usage of international oil companies' exploration success elsewhere in the world.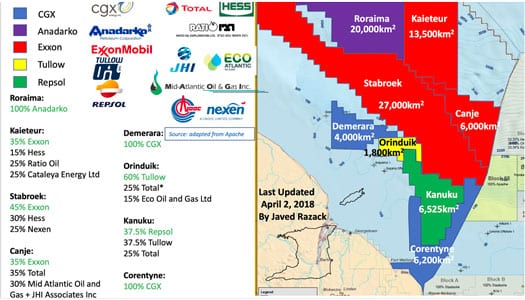 "Successful wells in the Guyana-Suriname basin are due to a combination of factors, most of which are technology-related," they said.
This technology is responsible for over 9 billion barrels of oil equivalent resources found to date in just the Stabroek Block offshore Guyana by U.S. oil major ExxonMobil. Over in Suriname, Total and Apache have made four discoveries at Block 58 while Exxon and Petronas have so far made one at Block 52. U.S. multinational investment bank and financial services company Morgan Stanley believes Block 58 alone contains a potential 6.5 billion barrels of oil equivalent resources.
Exxon has said the foundation for its Guyana success is up-front investment in proprietary seismic data and proprietary technology such as full wavefield inversion imaging and algorithms that run on supercomputers to give it the best chance of finding oil and gas deposits.
Analysts at IHS Markit say Guyana remains in an advantaged position with its low breakevens for the offshore developments, making it highly competitive even with powerhouse Brazil.
"If we look at say all the projects…all the fields that we have looked at in Guyana, the breakeven on average is about $31 a barrel," said Siddhartha Sen, Director at IHS Markit, speaking on a webinar on upstream developments in the Guyana Suriname basin.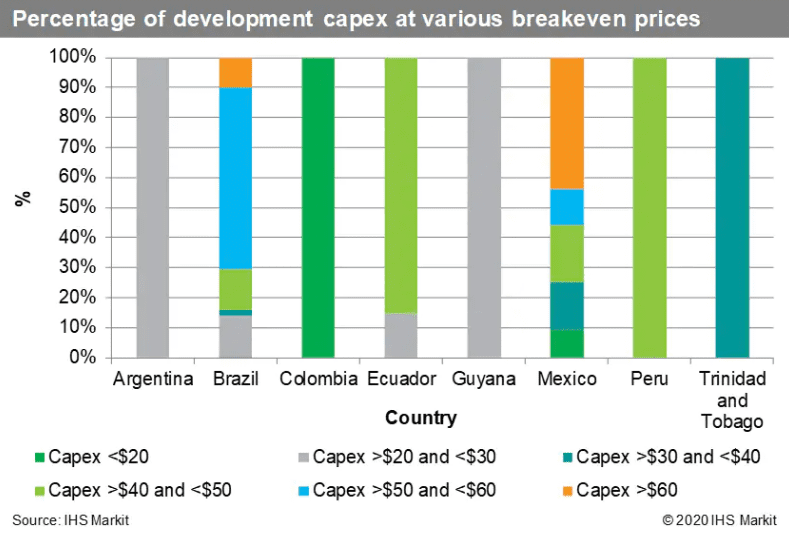 He said the low breakevens make the Guyana assets very competitive or comparative when looking at some of the other more interesting regions which are being developed in Latin America.
"One of the places that comes to mind is pre-salts in Brazil…the breakevens over there are basically below $35, some of them are even below $30," he said. "So, when you see that, you know that this falls within that range and it feels very interesting that some of the regions such as Brazil where pre-salts are getting developed are showcasing similar numbers in terms of breakevens like some of these discoveries and Guyana. So that's just to give a perspective on how it looks."
In terms of the Net present value (NPV), Sen said at Stabroek Block this comes to around 18 billion dollars for almost all of the discoveries that have been announced.
"This again, if I do a comparison with something outside of Guyana, it's similar to the NPV of our giant ultra-deep water oil field Tupi, in Brazil," he pointed out. "So, it's these types of comparisons which basically make you think that there is a success story in here."
Cool and Viloria said the biggest challenges for Guyana and Suriname are not on reservoir properties, as both rock and fluids seem to have the desired quality, nor is it the technology, because deepwater technology has been developed since the 1980s. They said it would most likely be to take the opportunity to implement industry best practices, from the start, on offshore production.
"This would allow government agencies and the private sector to develop regulations and policies to enable an environmentally-friendly framework, and make possible both countries' economic and social growth," they said.
The ultimate outcome for Guyana and Suriname will therefore be determined by decisions being made at present as the mega discoveries continue offshore and field developments move forward.
"They have reached a developmental kind of take-off speed if you can call it that after a few decades apparently of trying very hard to get to that point," said David Vaucher, IHS Markit Associate Director. "So far, the successes have been there and economically things are sound enough that they will continue on into the future."