Global provider of energy data and intelligence TGS, together with leading geotechnical data service providers CGG and BGP, have completed Phase IV of its deepwater seismic survey off the coast of Suriname.
Final data products from the survey will be available later this year.
"Suriname continues to play a vital role in expanding the availability of high-quality data in the Southern Atlantic, a priority for TGS," David Hajovsky, Executive Vice President, Western Hemisphere at TGS said.
Covering 1,800 square kilometres, Phase IV completes the programmed 14,500 square kilometers survey of newly acquired 3D data in deep and shallow water in the promising Guyana-Suriname basin.
Guyana, Suriname bid rounds to fuel new competitive oil market – S&P Global | OilNOW
The program also includes over 6,400 square kilometres of reprocessed data.
The new multiclient data will now support Suriname's deep and shallow water auctions.
"With our in-depth knowledge of the Suriname-Guyana region and leadership in high-end imaging technologies, CGG will deliver the high-resolution, high-fidelity images required to better understand Suriname's full potential," Dechun Lin, EVP, Earth Data at CGG commented.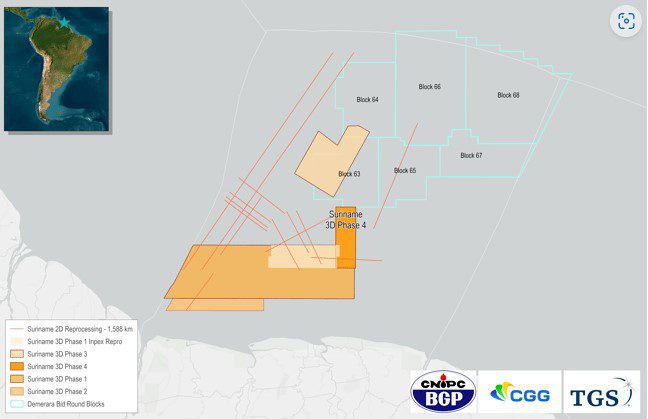 Global Analytical Group, Wood Mackenzie had flagged Suriname's bid round along with its neighbour Guyana as two to watch in 2023.
In Suriname, one bid round has been launched and another is planned for mid-2023. The Demerara 2022 Bid Round features six concessions. It centres on the open acreage of the deep-water areas that cover a geologically defined structure, the Demerara Plateau.
Seismic tests, license awards, exploration on the cards for Suriname in 2023 – Staatsolie | OilNOW
Drilling in this portion of the basin was done by multiple operators, most notably Tullow Oil and Kosmos Energy. One non-commercial gas discovery was made by Tullow in 2017, with the Araku 1 NFW located in Block 54, and three 3D seismic surveys have been conducted in the area during 2012 – 2015. On the Guyana side, 25 billion potential barrels are at stake from 14 blocks: three in deepwater and 11 in shallow waters.