The contingent from South America's newest oil and gas hotspot has arrived in Houston, Texas, and is all set to participate in the largest oil and gas sector trade show in the world – Offshore Technology Conference 2019.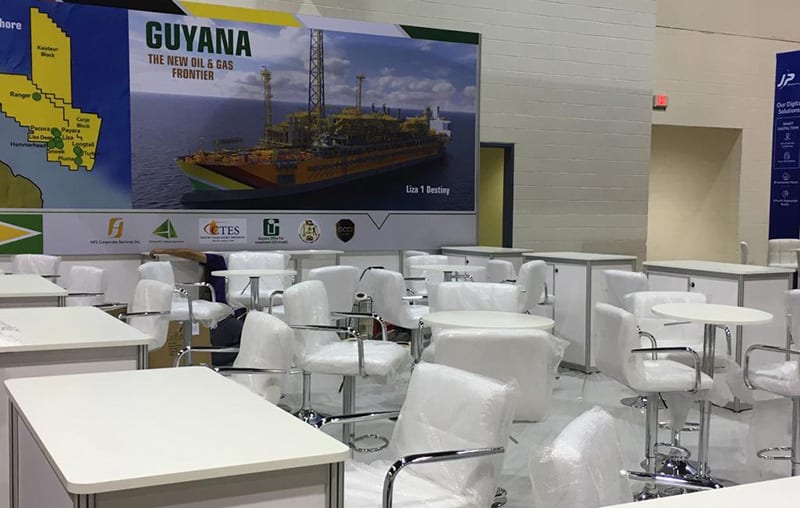 "Excited to be here and support 20 plus Guyanese companies which are seeking to pursue opportunities in Guyana's emerging oil and gas sector," Owen Verwey, CEO of the Guyana Office for Investment (GO-Invest) told OilNOW on Sunday evening.
The Government of Guyana through GO-Invest, is collaborating with the Georgetown Chamber of Commerce and Industry (GCCI) to facilitate the participation of representatives from approximately 24 private sector companies and several state agencies. The Guyanese contingent represents the largest the country has every sent to an international oil and gas trade show.
GCCI represents more than 240 companies in the South American country and has been advocating for local content development, with heavy emphasis on oil and gas, over the past two years.
President of the Chamber, Nicholas Boyer, on arrival in Houston, told OilNOW the representatives from Guyanese companies participating at the event are looking forward to a productive week, pointing out that there is a high degree of interest in Guyana.
"Everyone's agenda is packed to the hilt. So clearly Exxon's discoveries in Guyana is a hot topic," Boyer said, referring to the record 13 discoveries made so far by US oil major ExxonMobil in the prolific Stabroek Block offshore Guyana.
The Chamber President said participation at OTC is necessary for local content development which allows for Guyanese businesses to learn and seek partners in pursuit of growing opportunities in the South American country.
"Participating at OTC will help us to bring more of the Supply Chain on to Guyana's shores," he stated.
A Guyana Evening of Information Sharing and Networking, sponsored by ExxonMobil Guyana, is slated to be held on Wednesday, May 8. Approximately 500 representatives from various international and local companies are expected to be in attendance to meet with the Guyanese Delegation.
The OTC opening general session kicks off the conference on Monday, May 6, under the theme "OTC's Golden Anniversary Opening Session: The Next 50 Years of Offshore Developments," where industry executives will explore how companies are preparing for digitalization, automation, machine learning, and answering the question of what is their vision for the future of offshore E&P operations.