The radical re-organisation of energy markets continues to pose a challenging task, nine months after Russia first invaded Ukraine. At a time when these markets are wallowing in thirst for crude barrels from friendly producers, Guyana's quickly growing global supply is a welcome boon.
For the last three months, ExxonMobil's Liza projects in the offshore Stabroek Block have produced nearly 34 million barrels of medium to light, sweet crude. Average daily production over the period was 368,000 barrels of oil per day (bpd).
This is according to oil production data for the period August 1 to October 31, 2022, from the Petroleum Management Programme, Guyana's transparency portal officially established to make petroleum data accessible to all.
In August, average production was 364,820 bpd, totaling 11.309 million barrels.
In September, average production was 366,310 bpd, totaling 10.989 million barrels.
In October, average production was 372,910 bpd, totaling 11.56 million barrels.
Combined, the projects produced and exported 33.859 million bpd of crude.
After being optimised earlier this year, production capacity at Liza Phase 1 jumped from 120,000 bpd to 140,000 bpd. The Liza Destiny floating production, storage, and offloading (FPSO) unit has exceeded even its optimised capacity, peaking at 153,780 bpd in August and averaging 148,960 bpd in the three-month period. It produced a total of 13.704 million bpd in the period.
The Liza Phase 2 project, which came on stream in February, tripled Guyana's overall production capacity. The project peaked at 240,860 bpd in September and averaged 219,070 bpd in the three-month period, just under design capacity of 220,000 bpd. Drawing from this massive reservoir, the Liza Unity FPSO produced a total 20.154 million bpd from August to October.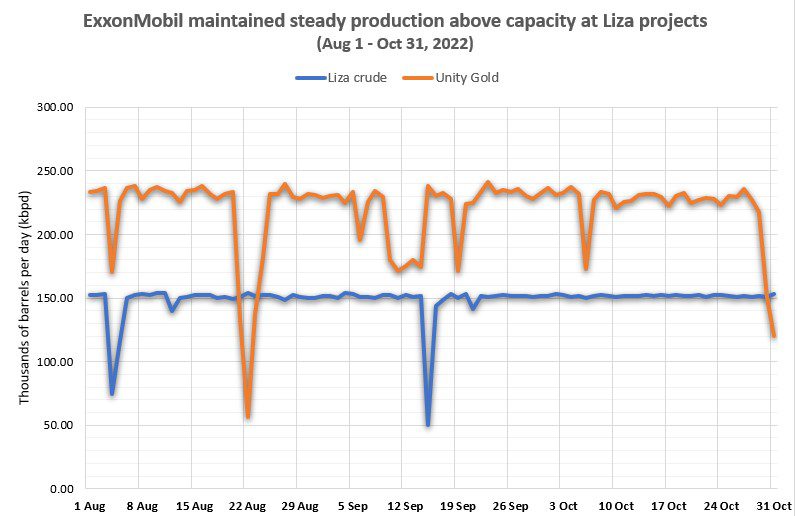 When it was the lone project in operation, Liza Phase 1 had produced 42.7 million barrels for the year 2021. With the introduction of Liza Phase 2 this year, the government had noted that the two projects produced 34.6 million barrels in the first half year alone. With both projects now at full capacity, producing more 10 million barrels every month, Guyana's oil exports in 2022 are expected to grow by more than 100% over the prior year.
Stabroek is the only block offshore Guyana, so far, in which oil has been discovered in commercial quantities and, resultantly, is the only producing acreage. ExxonMobil has a 45% operating interest in the block, while Hess and CNOOC hold 30% and 25% stakes respectively.
The partners plan to have seven FPSOs operating offshore Guyana by 2027, with oil production capacity of 1.2 million bpd. But even before then, by 2025, Guyana will be the world's largest per capita producer of oil.