Guyana is exploring the establishment of a national oil company (NOC) to develop its oil and gas resources and some critics have opined that the South American nation should not head down this route. But one local financial analyst is of the view that Guyana can rake in even more benefits for its people with this venture.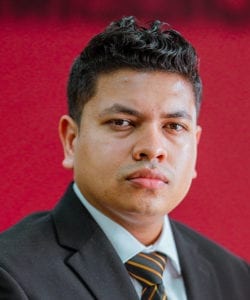 The analyst, Joel Bhagwandin, in his most recent writings, outlined the importance of NOCs in the future as highlighted by the International Energy Agency (IEA) which said that in the next four decades, developing countries – most with state-owned companies – will be the source of 90% of all new supplies of oil.
Bhagwandin also pointed to a study done by Rice University that said state-owned companies "already control almost 80 percent of world oil reserves and will dominate the market in the future."
Noting the foregoing, he opined that "this option, if considered, will almost guarantee far greater benefit and value for Guyana on multiple fronts."
NOC, Hydrocarbon Institute could make Guyana a more relevant player in oil supply chain – Surinamese Economist | OilNOW
Critics have argued that a NOC would bring corruption to Guyana but, according to Bhagwandin, it is a "weak" point to make.
"Merely basing a decision of such high national importance on the basis of the perception of corruption or suspicion of a manifestation of corruption cannot be the only factor to consider. What about weighing the pros and cons?" he asked.
He explained further that NOCs typically follow three stylised types of goals, namely the cash cow, profit seeker and state supplement, and are methods used by the National Petroleum Company of Congo, Norway's Equinor and Azerbaijan's State Oil Company of Azerbaijan Republic (SOCAR) respectively.
Should Guyana decide to establish a NOC, Bhagwandin was keen to note that several key aspects must be considered when structuring the model.
With Vice President Bharrat Jagdeo noting that the government would play the role of a passive investor, Bhagwandin recommended that the ownership structure be in accordance with the formula set out in the Local Content Act.
Further, Bhagwandin advised that Guyana get a five percent royalty share and institute a concessionary tax rate of 25 percent with a five-year tax break. This would be done considering the capital-intensive nature of the sector, to maintain a relatively competitive fiscal environment for the strategic investor.
He recommended too that the strategic investor contribute the capital, technology and other resources including human resources at the Executive/Board level, as well as technical and lastly, that the goals of the NOC be aligned with Guyana's national development goals and be framed using a combination of the cash cow, profit seeker and state supplement models.
A final determination on whether Guyana will establish a NOC is expected in September.
Already, investors from the Middle East have signaled interest in becoming strategic partners.
Americas Market Intelligence (AMI) Analyst, Arthur Deakin recently said that Saudi Aramco would be the best candidate for that position, though it does not come without risks.