As work continues on the upgrade of petroleum legislation in Guyana, a key official at the Department of Energy (DE) told attendees at a networking reception, held on the sidelines of OTC 2019 on Wednesday evening, that a data-driven approach for auctions is on the cards.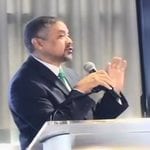 Speaking to those gathered, Nicholas Chuck-A-Sang, Petroleum Engineer, said authorities are working towards upgrading a suite of legislation to help enhance governance of the oil and gas sector and create certainty for investors.
"This is also to create certainty so that companies know what they are working with and we can develop that kind of 'no surprises approach' to operating in Guyana," he said.
Once legislation is upgraded and a new model PSA is in place, the South American country will be looking to issue new licenses for exploration and production, and this Chuck-A-Sang said, would be done using a data-driven approach.
"We are also going to be adopting a data-driven approach to our auctions which means that we are going to try to get seismic surveys and other data to try to formulate ideas of what the basin looks like in the specific area where we want to do the auction," he said.
This, he pointed out, would help to guide those who are going to be entering the auctions since they will be able to look at the data and determine potential value before bidding.
DE Director, Dr. Mark Bynoe, recently told reporters at a press conference that in due course, companies will be invited to submit proposals for execution of 2D seismic on the shallow continental shelf off the Guyana coast, to develop data packages.