A growing number of companies operating in Guyana's oil and gas industry are moving more of their supply operations from Trinidad and Tobago and other locations to the South American country, as local capacity to execute projects increase.
ExxonMobil Guyana said in an activity update on Thursday that all of its major international contractors have a presence in the new oil producing country and have been "steadily moving activities from Trinidad and Tobago and other locations around the globe to Guyana."
For instance, the three prime drilling service companies— Schlumberger, Halliburton and Baker Hughes — have also built major support facilities in Guyana, ExxonMobil said.
Schlumberger seeking EOIs to extend integrated lab facility in Guyana
"We truly believe it's the right sustainable approach, the most efficient for the business and of course, ultimately, it's the right answer for the country and that the people of the country feel that they're part of that development and to ultimately benefit from the development of the resource," ExxonMobil Guyana's President, Alistair Routledge, was quoted as saying.
Halliburton confirms it's on track for close to 100% local services in Guyana by year-end
Routledge recently visited the local facilities of Saipem and TechnipFMC where key services are being executed and planned, all with the intent of utilizing a local workforce.
Managing Director of Saipem Guyana Inc., Thuranthiran Nadarajah says the company has developed and is implementing a local content plan as part of its existing contracts with ExxonMobil Guyana.  "Saipem's goal is to have a proper sustainable growth in Guyana. We have completed Liza 1; we are in the process of completing Liza 2 and we are working on Payara. In this process, we have also developed our own fabrication facility to be able to bring in the high-end technology for jumper fabrications into Guyana," he said.
Just recently, OilNOW reported that Guyanese workers had assembled massive subsea jumpers for the Liza Phase 2 Development at the Saipem Offshore Construction Facility, an undertaken that was previously done in Trinidad. The local workforce was provided through a joint venture between Guyana Oil and Gas Support Services (GOGSSI) and Trinidad Offshore Fabricators Company (TOFCO).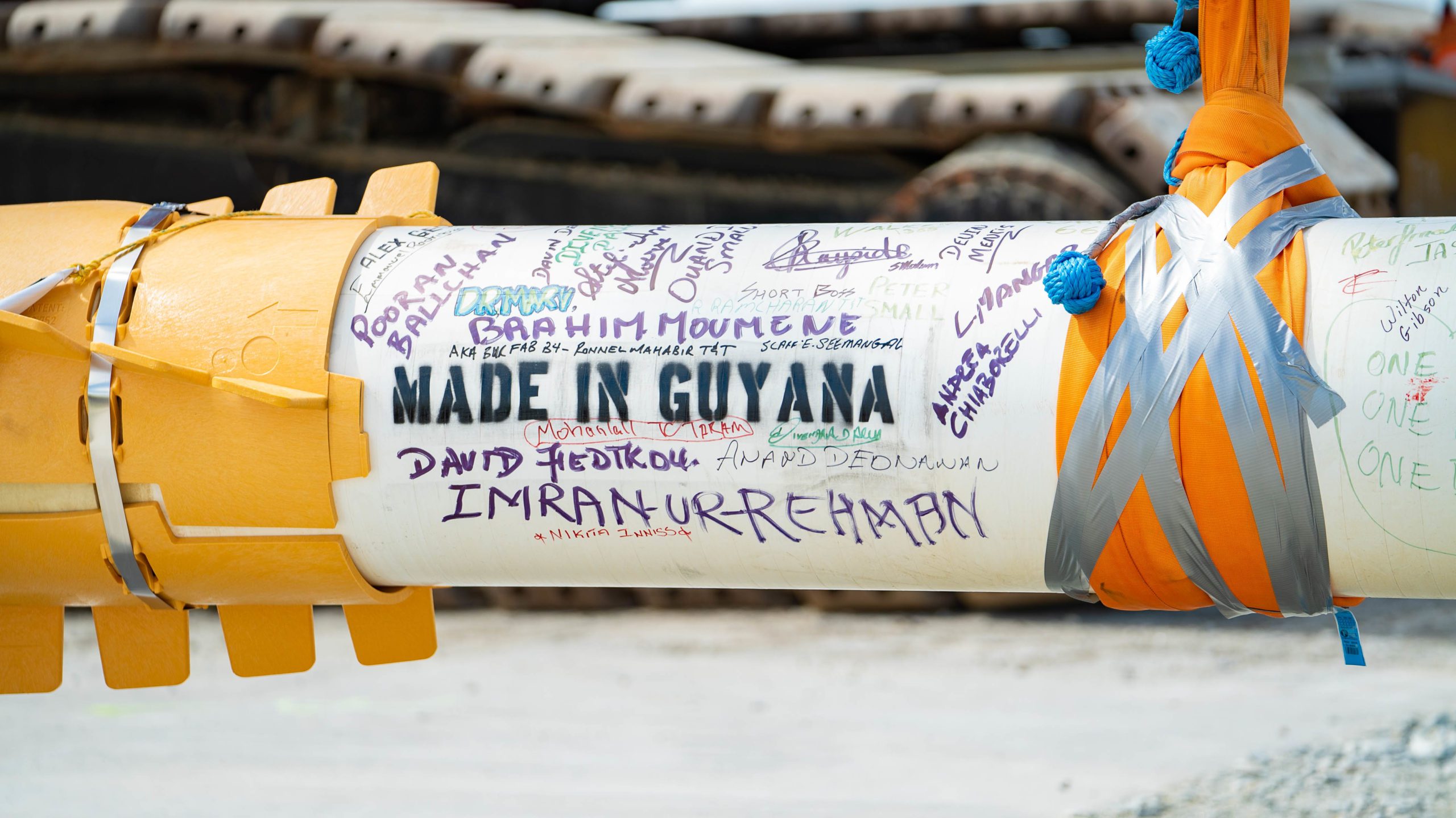 "This is the start of a massive fabrication industry in Guyana," Nadarajah told OilNOW at the time. "This shows Guyana can build its own structure for this own field with the guidance by Saipem."
Exxon moving almost all supply work from T&T to Guyana by 2022 – Routledge
Meanwhile, Johnny Hewett, TechnipFMC Guyana Country Manager, said the company's service base in the country will allow it to really expand its local footprint.
Already the company has over 50 direct Guyanese employees in different disciplines, the majority of whom are technical services personnel. Most of these employees have received extensive training abroad with 13 currently being trained in Houston, Texas.
Hewett also indicated that the company has long collaborated with the Centre for Local Business Development to expand and develop its local supplier base.
With three sanctioned projects, Liza Phase 1, Liza Phase 2 and Payara, Exxon sees the potential of up to 10 FPSOs to develop the current resource estimate of over 9 billion barrels of oil equivalent in the Stabroek Block.