On May 4, 2021, an analysis by OilNOW pointed to the rapidly growing hydrocarbon resources being discovered in the Guyana-Suriname Basin and how this is likely set to surpass the U.S. Geological Survey (USGS) estimates for the frontier region. Since that time, ExxonMobil, operator at the Stabroek Block offshore Guyana, has added another billion oil equivalent barrels to its discovered resources and Suriname's offshore success has continued.
Norway-based Rystad Energy in an analysis just last week said too that the basin is set to exceed the USGS estimate.
Updated January 23, 2022
USGS assessed the potential for undiscovered conventional oil and gas fields within priority geologic provinces of South America and the Caribbean as part of the USGS World Petroleum Resources Project. Thirty-one geologic provinces were assessed in this study, which represented a complete re-assessment of the South America−Caribbean region published in 2000 (U.S. Geological Survey World Energy Assessment Team, 2000).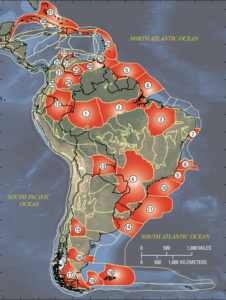 The provinces that were assessed represent a wide range of tectonic settings and evolution, stratigraphic fill, thermal evolution, petroleum systems, and exploration history. USGS said at the time several provinces were estimated to have significant undiscovered conventional oil potential, including the Guyana−Suriname Basin Province with a mean of 13.6 billion barrels of oil and 32 billion cubic feet of gas.
However, since 2015, U.S. oil major ExxonMobil has made an unprecedented series of oil discoveries offshore Guyana which are now fast approaching the USGS 13 billion barrels mark. To date, more than 10 billion barrels of oil equivalent (boe) have already been found and upwards of 20 prospects are yet to be targeted. Additionally, over five discoveries have already been made offshore Suriname. US multinational investment bank and financial services company Morgan Stanley says its modelling of Block 58 shows that it contains a potential 6.5 billion boe. Between Guyana and Suriname, resources to date therefore already exceed 15 billion boe.
And this is just the tip of the iceberg. ExxonMobil believes the prolific Stabroek Block where it is operator of an area equivalent to more than 1000 blocks in the Gulf of Mexico, could contain more than double the volume of oil it has already found.
"It's still early days in the programme but we continue to be very encouraged, and we estimate the resource potential of the basin to be more than double what we've already discovered," ExxonMobil Senior Vice President of Upstream, Neil Chapman, told investors in March.
Geologists and experts in the oil and gas industry have long been intrigued with similarities between the MSGBC Basin – Mauritania, Senegal, The Gambia, Guinea Bissau and Guinea Conakry, off the coast of West Africa and that of the Guyana-Suriname Basin.
"With numerous untapped prospects and more than a dozen wildcats lined up for drilling this year, the basin could be poised to exceed the current 13.6 billion boe estimate by the US Geological Survey," said Schreiner Parker, Rystad Energy's Vice President for Latin America and the Caribbean in a January 19, 2022, analysis. The energy research and business intelligence firm said it estimates that the Stabroek Block now contains more than 13.5 boe.  
IHS Markit expert, Jerry Kepes, has said the Atlantic Margin play extends as far north as Norway, and all the way down to the southern areas offshore, in the deep water of Argentina on the west side of the Atlantic, and then South Africa on the east side. He said this concept is called Conjugate Margin Pair Basins because plate reconstruction shows that parts of South America and North America fit right into Africa and Europe before the plate split.
"Basically, you had very similar basins being developed on both sides of the Atlantic. The Guyana Basin offshore Guyana and Suriname where ExxonMobil and others have made such extraordinary discoveries, they are analogous pair bases with the MSGBC Basin on the other side," Kepes said.
Fangtooth-1 unlocks new play; will 'add significantly' to 10-billion-barrel oil resource – Hess
On January 5, 2022, ExxonMobil announced two more discoveries at Fangtooth-1 and Lau Lau-1. Both wells were optimally placed to target multiple stacked reservoirs of Lower Campanian and Upper Santonian sandstone. The wells encountered high-quality reservoir sections with net pay of 50 meters in Fangtooth and 96 meters in Lau Lau, according to Exxon.