The traffic woes that plagued Guyana's east and west bank corridors will become a thing of the past as the government signed a US$260 million contract to see the construction of a new and modern structure across the Demerara Harbour.
In two years' time, the contractor – J.V. China Railway Construction Corporation (International) will deliver to Guyana a four-lane high span cable stay bridge structure with a 100-year lifespan.
The structure will connect at Nandy Park on the East Bank of Demerara and La Grange on the West Bank. It is expected to be a hybrid design at a length of 2.65km.
Construction is expected to commence immediately.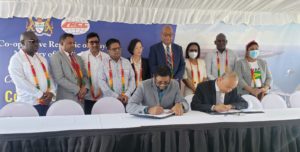 The project, according to Guyana's Minister of Public Works Bishop Juan Edghill, is the largest transport infrastructure project ever financed by the government, made possible by the millions in oil revenues the country has accrued since becoming a producer.
Guyana to spend 60% of oil revenues on development projects in four years | OilNOW
It will be replacing the existing Demerara Harbour Bridge that has outlived its 40-year lifespan; a structure that has been marred by breakdowns and accidents over the years. Currently, the government must expend over GYD$1 billion in repairs to keep it functioning, as it serves as the main link between the east and west banks of Demerara.
"We will work hard every day to ensure that what we are signing today is not only a document but very swiftly, it will become infrastructure that we can all use," Minister Edghill remarked.
Chinese Ambassador to Guyana, Guo Haiyan said China was pleased to be partnering with the South American Nation on yet another monumental project.
China has lent its support to Guyana for other infrastructural projects including major highways, the Arthur Ching Conference Centre and the remodeling of the Cheddi Jagan International Airport.
Now, Ambassador Haiyan noted that the new Demerara Crossing will effectively remove the logistical issues that affect businesses on both sides of the river, and will make traversing both corridors smoother.
Meanwhile, Guyana's Minister of Finance, Dr. Ashni Singh pointed out that the contract signing aligns with other significant infrastructural projects being undertaken by the government; among those were the contract signings for the Linden to Mabura Hill road project and for studies on the construction of the bridge linking Guyana and Suriname.
Noting the foregoing, the Finance Minister said that "Guyana's modern transformation is underway".
Dr. Singh urged the Ministry of Public Works to ensure that the project is executed within the stipulated timeframe and "with the highest specifications" so that generations to come can reap its benefits.
The new bridge will be instrumental in supporting the oil and gas sector in Guyana, as companies establish facilities on the West Bank and West Coast of Demerara, including the Gas-to-Energy project.