ExxonMobil Guyana produced 10.78 million barrels of crude in November 2022, according to public data from the government's Petroleum Management Programme. Total production averaged 359,490 barrels per day (bpd).
This comprised output from the Liza Phases One and Two projects in the Stabroek Block. The Liza Destiny floating production, storage, and offloading (FPSO) vessel produced 4.45 million barrels at 148,550 bpd, and the Liza Unity produced 6.32 million barrels at 210,930 bpd.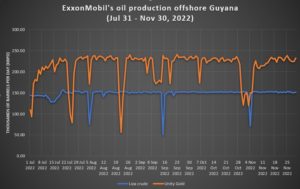 The November output is consistent with OilNOW's projection that Guyana will achieve 100 million barrels of crude output for the full year. With total output at October's end being 79 million barrels, November takes the total to 89.79 million barrels. Guyana's oil exports in 2022 remain on track for growth of approximately 130% over the 2021 total of 42.7 million barrels. Production was impacted by debottlenecking of the Liza Destiny and the addition of Liza Unity in February.
Production for the year up to November 30 averaged approximately 268,823 bpd. However, production in the second half of the year has so far averaged much higher at 360,700 bpd, on account of both FPSOs ramping up to full capacity after achieving background flare in July.
Government projected that its take from the development of its crude will be US$1.247 billion for the full year, 80% of which will be legally allowable for use in Guyana's national budget for the fiscal year 2023.
Guyana's oil output is expected to increase significantly in 2023, as both projects maintain steadier production at capacity throughout the year, and as the third project, Payara, comes on stream in the second half of the year. Payara will add another 220,000 bpd of production capacity to Stabroek Block output, taking it to 580,000 bpd.
ExxonMobil is the operator of the Stabroek Block and has discovered more than 11 billion oil-equivalent barrels there. Its 45% operating stake is accompanied by a 30% stake held by Hess and a 25% stake held by CNOOC.