After having made more than 30 discoveries offshore Guyana with a success rate close to 90%, ExxonMobil sees the potential for the Stabroek Block's near 11 billion oil equivalent barrels to more than double. In addition, the company sees immense potential in the Kaieteur and Canje Blocks, two other acreages it operates offshore Guyana.
Therefore, ExxonMobil plans to drill more than 60 exploration wells offshore Guyana in six years – more wells than it has drilled in the past.
The company is planning a 35-well exploration campaign for the Stabroek Block. It is anticipated that this campaign will begin in the third quarter of 2023, and if discoveries are made, well test(s) may be performed. Conclusion of the proposed drilling campaign is expected by the fourth quarter of 2028. Generally, the prospect areas are situated in the southeastern half of the Stabroek Block. The company is currently seeking the requisite regulatory approvals for this campaign.
The 35-well Stabroek campaign is slated to begin when Exxon's current 25-well campaign ends. For this ongoing campaign, Exxon already made five discoveries for 2022 alone. Yarrow is Exxon's next target in the Stabroek Block. The campaign is slated to conclude in the second quarter of 2023.
Over at Kaieteur and Canje, 24 wells – 12 each – are planned, also in the process of securing regulatory approvals. Financial statements in 2020 from Westmount Energy Limited, a company with indirect interests in several blocks offshore Guyana, had indicated that Canje was estimated to hold 10 billion barrels. But this was before three wells delivered non-commercial finds.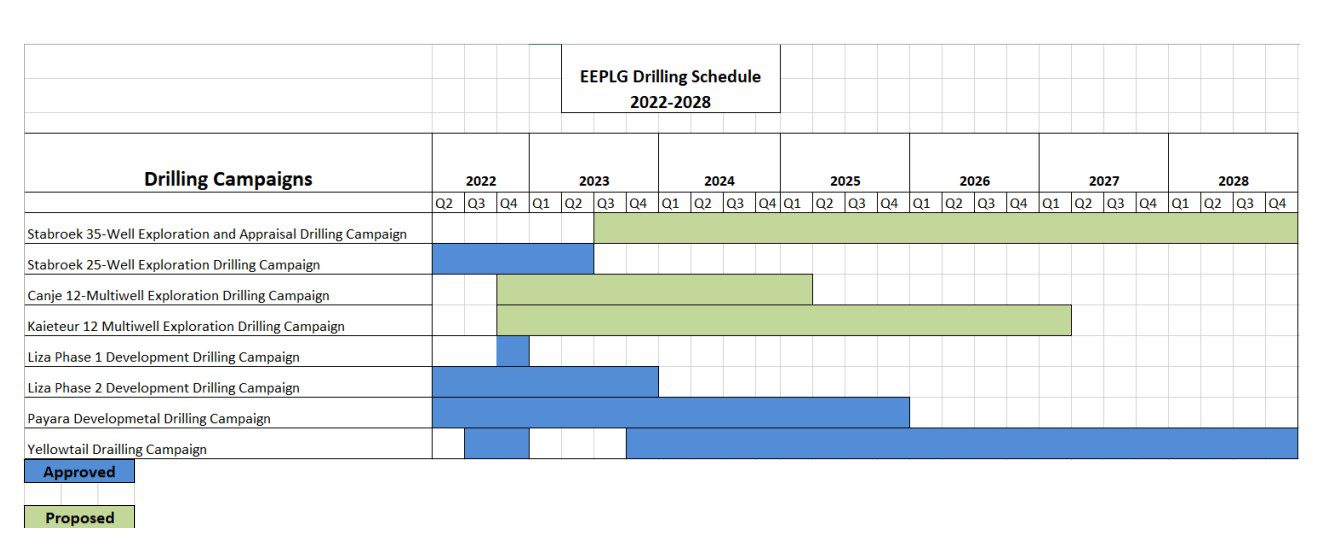 As for Kaieteur, the Block was estimated to hold 2.1 billion barrels by Netherland, Sewell and Associates Inc. in a 2020 report. There was one discovery at the Tanager-1 well that was determined to be non-commercial on a standalone basis. The report had estimated it would contain 256 million barrels, but a later report from the firm after the find saw this reduced to 65.3 million barrels.
ExxonMobil Guyana is the operator of all three blocks. At Kaieteur, its stake is 35%, with Cataleya Energy Ltd. (20%), Ratio Petroleum (25%) and Hess Corporation (20%) as partners. At Canje, Exxon has a 35% stake, with TotalEnergies (35%), JHI Associates (17.5%) and Mid-Atlantic Oil & Gas (12.5%). At Stabroek, Exxon has a 45% stake, and is partnered with Hess (30%) and CNOOC (25%).