Guyana has emerged as the world's most exciting new oil province since a major offshore discovery in 2015 placed the country in the spotlight. The more than 18 discoveries made since that time at the prolific Stabroek Block have placed the South American county at number one for total resources found since 2015.
These volumes have pushed Guyana's total estimated discovered resources to more than 9 billion barrels of oil equivalent. ExxonMobil, operator at the Stabroek Block, believes the basin potential is double what has already been found and the company has been forging ahead this year to add more barrels with an aggressive exploration and appraisal drilling programme off the country's coast.
The Guyana story, along with its neighbour Suriname where offshore success is also growing, is changing the dynamics for Latin America's key oil producers.
South American basin with abundant oil resources giving rise to fierce competition
"Latin America is set to be one of the fastest growing regions globally in terms of upstream investments in the coming decade," said Daniel Leppert, Rystad Energy Senior Vice President of Consulting, Latin America. "A combination of giant new discoveries such as the ones seen in Guyana and Suriname, coupled with a recovery of brownfield expenditure primarily in Brazil and Argentina, provide the necessary components for sustained investment growth in the region."
Leppert said recent exploratory success has put Suriname on the world oil map, with cumulative recoverable resources in the order of 1.9 billion barrels of oil equivalent as estimated by Rystad Energy.
"For a perspective on the significance of these volumes, when considering a ranking of countries by total oil resources discovered since 2015, Suriname ranks fourth, only behind Mexico (3rd), United States (2nd) and Guyana (1st). These assets, when developed, have the capability of significantly boosting Suriname's economy," he pointed out.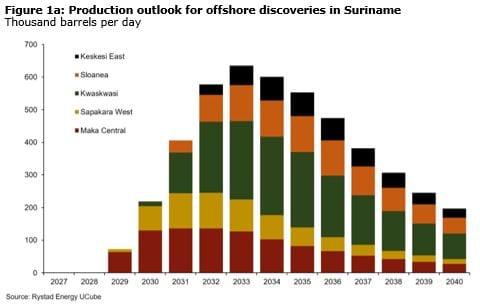 Suriname took a giant leap last year with a series of game-changing discoveries, including four on Total and Apache's Block 58 and one on the Petronas-operated Block 52.
"These assets, when developed, could boost Suriname's economic fortunes and generate outstanding revenue for the government," Rystad Energy said. "We expect the net present value of projects on Suriname's 11 active blocks to be significant, with a potential to generate substantial cash flows for both state player Staatsolie and international oil companies even in a low oil price environment."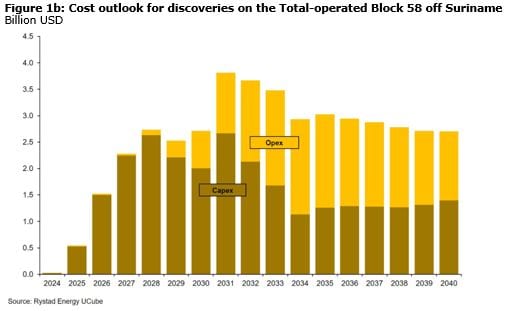 Rystad Energy expects production from Blocks 58 and 52 to commence by the end of this decade and grow to about 650,000 barrels per day by early 2030.
U.S. Geological Survey may have grossly underestimated massive Guyana-Suriname basin potential
"Provided Staatsolie exercises its right to farm in to Block 58, for instance, it would cost initially between $1.5 to $2 billion and its partaking in future development phases could double, with capex peaking in the years 2028 and 2031," Rystad Energy said.
According to the Norway-based consultancy group, the company plans to conduct an international roadshow to promote a financing project for its own participation. Financing options include bank loans, private financing, and an initial public offering, which Staatsolie aims to pursue by developing close partnerships in Latin America, the Middle East and Asia.