At the opening of the first day of the 2022 Guyana Supplier Forum, ExxonMobil Guyana President, Alistair Routledge said the oil major endeavours to create a prosperous and sustainable future for the South American country.
Categorically, he said to the packed auditorium, "This is Guyana's resource, and we are here as guests. We take it very seriously, our responsibility, with not just what we do, but also how we do it."
"But it doesn't happen by chance. It happens through partnership. It happens through collaboration," Routledge said. This collaboration, he explained, is happening between ExxonMobil, Hess, CNOOC, the people of Guyana, the government, and the business community.
He reminded that through this strategic partnership, two floating production facilities are online in the Stabroek Block, collectively producing approximately 360,000 barrels of oil per day.
Speaking to further projects being undertaken, the Gas-to-Energy project, Routledge explained, will bring 50 million cubic feet of gas from the Liza field to Wales, where it will meet ensure Guyana's self-sufficiency in multiple ways.
"It will halve the cost of generating electricity. It will reduce emissions in the process, because burning gas produces lower emissions than burning fuel."
The second project he said Exxon is excited to discuss is the Port of Vreed-en-Hoop by the NRG Holdings consortium. Dredging is ongoing in the Demerara Channel, which Routledge said is preparing the seabed to start the construction of the NRG project. He said this project that will help to bring even more of the Stabroek Block consortium's project supply chain to be executed in Guyana rather than overseas.
"We're excited that it is led by local businesspeople, a consortium of local business people who have been able to secure financing from overseas."
So far, Routledge said Exxon has had more than 1,000 Guyanese vendor companies that have been participating in the oil and gas sector since 2015. Exxon and its contractors have spent more than US$700 million on these suppliers, equivalent to more than GY$140 billion.
"Today and tomorrow are about learning about the opportunities that are coming, about being part of the journey, about learning what are the requirements and how you get there."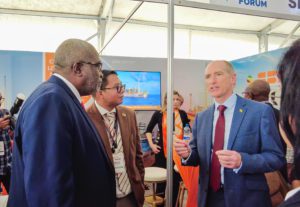 Exxon's Supplier Forum 2022 is the first to be held after the passing of Guyana's Local Content Act into law. The government's principal representative, Prime Minister Brigadier Mark Phillips opened the Forum.
Phillips said, "Our commitment to our people, is that we will create a prosperous country where every Guyanese must have a full and successful life through quality education, access to good-paying jobs, opportunities for entrepreneurship, home ownership and economic stability."
Guyana's oil and gas sector, he explained, will encourage citizens to achieve these goals through a strengthened economy that allows for commitment and re-investment in other sectors to build a holistic and well-rounded economy. The PM said these realities will only come to fruition if Guyana's people can actively participate in the country's ongoing change. In this regard, the official thanked ExxonMobil for hosting the Supplier Forum 2022, as well as its prime contractors for taking the time to make themselves available over the course of the program's two days.
Following the grand opening ceremony, which the Prime Minister ended, attendees moved to commemorate the ribbon-cutting event for the Supplier Forum Exhibition.
The Forum is being held at the Leonora Stadium (National Track and Field Facility), West Coast Demerara. The public is invited to the exhibition on Day 2, which commences at 10:00 hrs.